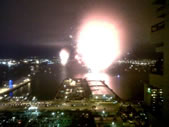 Since I spent July 4th trying to build my own cornhole board (until the batteries in my drill ran out), hanging out with family members sharing their opinions on every girl baby name in the world, happily eating hot dogs with beer, and watching fireworks that didn't last just 15 seconds, I didn't spend much time on the computer today.
Instead, since a certain bank already used this holiday to refer to financial independence, I found myself thinking about how my view of financial independence and "early retirement" has changed over the years. Just my opinions. I apologize in advance for the rambling.
Early retirement. I believe it's just as possible as ever. However, you'll have to be different than most people. You'll have to either earn more than others, or spend less than others. Preferably both. But most people don't want to be different than most people. It's hard, you stick out, you get called cheap a lot, and you tend to just keep quiet so you don't stick out as much.

Very few people will retire early. Many of them don't even think of it as an option. Some will consider it, and just come to realize they'd rather just spend more and work more. I don't necessarily see anything wrong with that.

Post-retirement jobs. (Oxymoron?) If you're good at saving money, you may be afraid of being broke. (I am.) But that also means that you may still worry about "what if I run out of money" no matter how much money you have. (I do.) However, if you're disciplined and motivated enough to retire early, you'll probably be able to find some sort of work that will pay you decent money for a flexible 5-20 hours a week, 3-9 months a year. Keep your eye out for that kind of job, it will help you retire earlier and with less stress.
Investing. I have come around to believing that some people can invest wisely and beat the return of the general market. I believe it's a skill, but with so much noise that separating skill and luck is hard. It's very easy to fool yourself into thinking you're beating the market if you're not keeping score carefully. Low-cost passive investments guarantee you above-average results, and for most people that's the best bet to take.

Old fashioned retirement is mostly about saving a big chunk of money, and then spending a big chunk of money without running out. Early retirement is more about living off of dividend and bond interest income almost indefinitely, but remember that even dividends can drop by 30% in any given year. As long as you don't reach for yield too much, you should be able to design a portfolio whose dividends should rise with inflation. I don't pay attention to mainstream retirement calculators anymore (Monte Carlo simulations) by Fidelity, Vanguard, ING, etc. I don't feel they approximate real-life reactions to a dropping portfolio.

Rental property. More people I know actually retired early with rental property than by stock market returns. Fixed rate mortgages come with fixed payments, while rental income rises with inflation. This doesn't necessarily mean that rental property is better stocks and bonds, but perhaps there is something special about this asset class. I'm seriously considering rental property again, but don't know if I want to deal with it while raising young kids.
Home ownership. If you're geographically stable, I highly recommend homeownership with a 15-year mortgage. It doesn't cost double a 30-year mortgage. Paying extra towards my mortgage feels much more warm and fuzzy than placing money in the stock market. It allows you to see the effect of compound interest. Simply putting an extra $100 a month towards principal regularly will shave years off a typical mortgage. See prepayment calculator.

I expect to pay off our mortgage within the next 5 years, before our portfolio is ready to support full financial independence but the lowered stress levels due to the huge drop in monthly spending will be awesome. I see the appeal of borrowing money for 30 years at 3.XX%, but for my primary home I'd be happier owning it free and clear. I'll take the low interest rate on rental property, though.