Last week I finally got to meet the most beautiful girl in the entire world: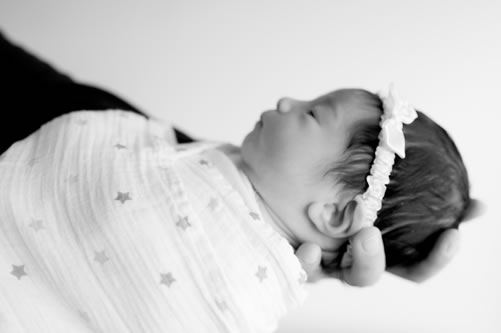 I've only been a parent for a matter of days and am actively suffering from sleep deprivation, but here are some thoughts which I can revisit later and probably laugh at my own foolishness and naïveté. 🙂 I look forward to the adventure!
How does the arrival of children affect my journey towards financial freedom? Of course, having kids means I want to spend time raising them as opposed to paying someone else to, so not having to work would definitely help with that. However, I also imagine that when the kids are at school then I'll have at least a half day free for other pursuits. We're definitely talking more about a scenario where we both work about half-time. In fact, that day may be coming soon. Health insurance remains a concern here, I'll have to report back on my search for self-employed health insurance.
The cost of raising kids. In general, I think my philosophy on raising kids will be to teach them how to fish as opposed to giving them fish. So I'll spring for lessons for things like swimming and musical instruments – and even world travel in hostels with kids – but I'm fine with being the weird house with no cable TV, no video games, and instead having lots of books and a vast board game selection. Is it hard just to temporarily subscribe to cable once every two years only for the Olympics?
As for baby time, we plan on trying a few things to save money. Breast milk is obviously cheaper than formula. (Breast pumps are covered by health insurance now, as part of the Affordable Care Act.) As she grows, I expect her to eat pretty much what we eat, perhaps either blended or pressure-cooked. Cloth/reusable diapers seem to save money over disposable ones, especially if you can stretch them across at least two kids, and we do plan on having more children. We've got a ton of clothes as gifts, some hand-me-downs, and new grandparents itchy to spoil her, so we're not worried about that part just yet.
College tuition? Seems so far away. I'm personally okay with them taking on some student loans, but Mrs. MMB got a lot of parental support for college, so she wants to pay that forward. Actually, we already started a 529 years ago ironically due to a credit card, I just have to switch the beneficiary once her Social Security number comes in. Let's hope that the tax sheltering lets compound interest do its thing.