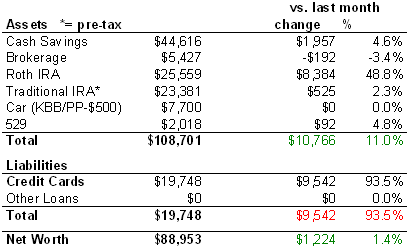 Intro
My large credit card debt is all at 0% APR interest. Please see my posts on taking advantage of no fee 0% APR balance transfers for more information. In short, I'm borrowing the money for "free" and keeping it in safe investments while earning me interest. I received another $10,000 this month from one of my two new credit cards.
Thoughts
Lots of money moving around this month. In addition to the $10,000 coming in from balance transfers mentioned above, my wife and I also maxed out our Roth IRAs for 2006. It's almost like we funded our IRAs with credit cards. Of course, this moved cash into retirement accounts, which leaves us farther away from our Mid-Term goal of $100,000 in non-retirement funds.
Although we are saving steadily each month, I'm not really satisfied with the pace at which we are going. I feel much of it has to deal with inadequate time-management on my part. There is much I want to do, and it's already February!