Wow, I can't believe it is February already! January was a blur, but here my current financial snapshot: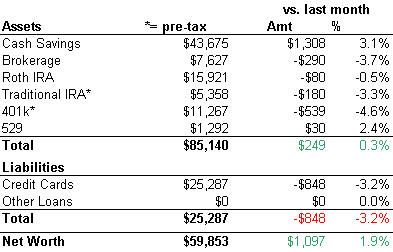 My assets grew only slightly, especially my retirement accounts. One big reason is a change in accounting methods for 401k reporting. I previously stated my entire balance including all unvested company matches, as this is what Yodlee shows. However, this is inaccurate since I am only partially vested in my company match, so I am correcting that now. On the good side, my debt did decrease by $848.
Other reasons for all this included the stale stock market this last month, some of my 0% credit card debt becoming due, and my $2115 of moving expenses incurred. After the dust settled, my net worth increased by $1097 since last month's snapshot. My non-retirement funds now total $27,307, an increase of $1896. I am still a bit off pace of the $2555/month to reach my mid-term $100,000 goal. But the annual bonus comes this week, so here's hoping!