Forgive me frugalistas, but I've only recently discovered the retro trend that I call YSIJ – Yummy Stuff in Jars. A friend of ours recently provided homemade passionfruit butter in classic Ball glass jar, which was awesome. Another friend gave us this cookie mix from Williams-Sonoma, which they sell for $19.95: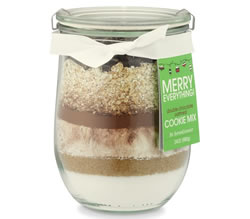 Upon closer inspection, it's a Weck jar, which you can buy for under $4 at Crate and Barrel. Aren't they sexy?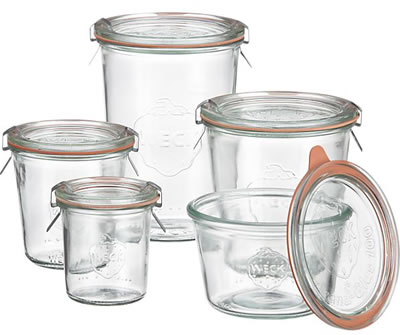 So for a nice DIY gift for well under $10, simply find/create/steal an awesome cookie or brownie recipe and leave out the butter and eggs. Layer the remaining dry ingredients all pretty-like in the jar, stick a nice rustic-looking label on it, add a bow from extra fabric, and you're done. You don't even need wrapping paper. Make them in bulk.
You could also bake something that keeps for a while and put it inside – candied nuts, toffee, trail mix, etc. Or cook something like grandma's marinara sauce. Or actually preserve something, which I have never tried beyond some easy pickles. After they ingest your gift of love via food, they're still left with a cool reusable jar.
p.s. These glass bottles with stoppers look like great gift ideas too, even better if you can add a homemade drink to put inside.
(End Martha Stewart Hipster mode.)