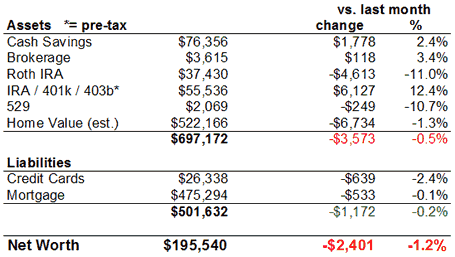 Credit Card Debt
I have no actual consumer debt. In the past, I have been taking money from credit cards at 0% APR and immediately placing it into high-yield savings accounts or similar safe investments that earn 3-5% interest or more, and keeping the difference as profit. I even put together a series of step-by-step posts on how I make money off of credit cards this way. However, given the current lack of good low fee 0% APR credit card offers, I don't think I'll be doing anymore in the near future.
Retirement and Brokerage accounts
Ignoring new contributions, my retirement accounts have lost about ~$8,500 over the last month. I will perform another portfolio update soon to find more accurate year-to-date return numbers.
I have sent in another $5,000 late last month and $5,000 this month in order to max out my pre-tax 401k contributions for this year. My asset allocation is way off target so I need to sit down and try to rebalance using these funds today. It might be tricky to due to the $10,000 minimums for index funds at Fidelity, and I might actually buy ETFs and pay the trade commission.
Cash Savings and Emergency Funds
Why am I not panicking (yet)? Well, I think a big part is my fat cash pile that serves as my emergency fund. In my mind, having a separate short-term reserve keeps me from worrying about my long-term "can't touch" portfolio.
I have about $49,000 net in sitting in different forms of safe cash earning from 3 to 6% interest, while now my entire retirement portfolio is worth about $93,000. I will keep accumulating cash until I reach a full year's worth of expenses, which is about $60,000. I think this is prudent given the high unemployment rate right now.
Home Equity
This is the second month of testing out my new way of estimating our house's value. Again, I take the average estimates provided by Zillow, Cyberhomes, Coldwell Banker, and Bank of America. Then, I shave off 5% to be conservative and subtract 6% for expected real estate agent commissions (11% total). I use this final number as my estimate for home value. Looks like my home value has dropped by another 1% or so.
Overall, another tough month. However, I am very thankful we both still have jobs – knock on virtual wood!
You can see our previous net worth updates here.