Inspired by both the book Cooked and my Live Below the Line experiment, I'm doing a series of posts investigating how much extra trouble it is to cook at home. How much time do you really save? How much more does it cost? Plus all the intangibles like taste, knowing what's in your food, the lack of various food additives, and the feeling of self-sufficiency. I'll try not to be too preachy, as I've eaten my share of prepared food and take-out. In fact, don't be surprised if the food-in-a-box wins sometimes.
So what's a good place to start? Pizza! It's quite easy to make your own pizza, but yet the frozen food aisle is packed with shrink-wrapped dough discs. It's time for a showdown.
Making Your Own Pizza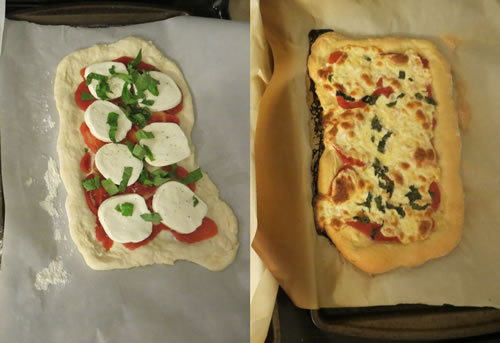 Pizza dough only has a few ingredients, most of which are probably already in your pantry. Here's one sample recipe that we worked off originally, but have adapted over time to our preferences. As for toppings, let's start with a simple mozzarella and basil pizza with tomato sauce. Here's a table of the ingredients and their cost for two medium pizzas. Unlike my poverty challenge, in real life I can buy things in bulk like a Costco jug of olive oil.
| | |
| --- | --- |
| Ingredient | Cost |
| Active dry yeast, 1 packet (0.25 oz) | $0.75 |
| Flour, white all-purpose, 2 cups | $0.20 |
| Olive oil, extra virgin, 2 tbsp | $0.06 |
| Salt, 1 tsp | Less than $0.01 |
| Sugar (white granulated), 2 tsp | $0.05 |
| Whole peeled tomatoes, 1 can (28 oz) | $1.99 |
| Mozzarella cheese, fresh, 8 oz. | $3.99 |
| Basil, fresh, 2 oz. | (free from yard, some crazy price at supermarket… dried basil would be cheap alternative) |
Recipe
In a large mixing bowl, dissolve yeast packet in 1 cup of warm water and add sugar. Wait a minute. Now add the 2 cups flour, olive oil, and salt. Mix until dough is formed. Cover with a wet paper towel and let it sit there and rise for about 30 minutes. At the same time, preheat oven to 450 F.
After dough has risen, roll out dough into desired shape and thinness. We make two rectangular pizzas out of this much dough, each on their own sheet pan. Line a sheet plan with aluminum foil and place dough on top. Drain and slice tomatoes and cheese. Pick off basil leaves from stem. Add toppings, though I like to save some fresh basil for just before eating.
Bake the whole thing at 450 F until golden brown on edges (about 20 minutes). This higher temperature helps make a thin, crispy crust.
Prep time: 15 minutes
Cook time: 15 minutes
Extra idle time: 30 minutes
Total time: 1 hour
Cost: $7.05 for two pizzas
Calories: ~1,000 calories each pizza
We just use all-purpose flour as it is cheap and always in our pantry, and it tastes fine. Bread flour has more protein and gluten than all-purpose, making the crust chewier and more elastic. You could try a whole-grain flour as well. Growing your own basil plant is easy in many climates, and can even be done inside by a window. You could also use fresh tomatoes on the pizza, add various meat, do a white pizza, and so on.
Supermarket Frozen Pizza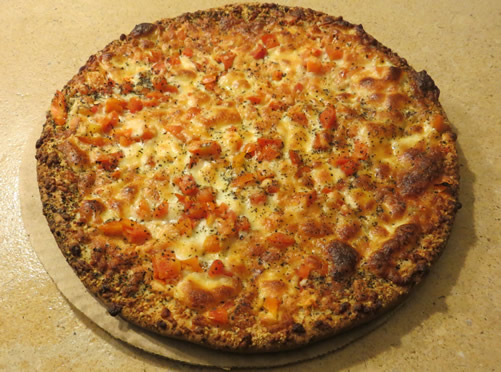 The cheapest margherita pizza that I could find in the supermarket aisle was a California Pizza Kitchen pizza for $6.99. Given the size, it would take two pizzas to equal the amount of pizza from above.
Prep time: 0 minutes
Cook time: 15 minutes
Total time: 15 minutes
Cost: $14 + sales tax for two pizzas
Calories: 1,300 calories each pizza
Looking at the ingredients, additives I noticed were the following "dough conditioners": distilled monoglycerides, calcium sulfate, guar gum, wheat starch, sodium metabisulfite, ascorbic acid. I'm not really sure what in that list is good or bad for you. Also, the primary oil included is soybean oil as opposed to extra virgin olive oil. There is olive oil as a "topping", but it's the next-to-last ingredient with the dried basil flakes.
The Results
It shouldn't surprise you that we both like the taste of our homemade pizza much more than the CPK pizza. The CPK pizza had cardboard-ish dough, a thin layer of cheese, and sad little bits of basil sawdust. The homemade pizza had chewy dough, fresh mozzarella, and the actual taste of basil leaves. I honestly don't know where the extra calories come from as the homemade pizza was actually larger. (I used the calculator at MyFitnessPal to add up the calories.) My guess is more soybean oil and denser dough.
Making your own pizza ends up taking 15 additional minutes of work and 30 minutes of doing whatever while the dough rises (check e-mail, work, read MyMoneyBlog.com). You can even make the pizza dough ahead of time and store it in the fridge (or freezer). The extra 15 minutes saves you $7, working out to $28/hour of after-tax savings. Now, there are definitely cheaper frozen pizzas out there, but they would probably taste even worse.
Winner: Homemade pizza. Mrs. MMB and I deem better taste for 15 extra minutes a worthy trade-off. Being cheaper is just a side benefit. We make our own pizza much more often than we eat frozen, but we do buy some frozen pizzas occasionally as they are nice to have around when you're really just feeling tired and hungry.