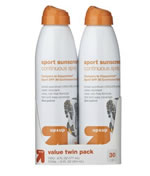 The problem with choosing between sunscreens is that they all claim to do everything. The July 2013 issue of Consumer Reports magazine again tested a variety of sunscreens against their claims. For example, one important thing that CR tested for was protection against both UVA and UVB rays. UVB causes sunburn, but UVA damages and ages skin on a deeper level. Some major brands are notably weaker in protecting the UVA part of the spectrum. New labeling and test requirements from the Food and Drug Administration have also added specific requirements before a sunscreen can claim "broad-spectrum protection" from UVA/UVB. Other factors like water-resistance were also tested, as there really is no such thing as "water proof" or "sweat proof".
Consumer Reports used to say that anything above SPF 30 doesn't get you much extra protection, but this year's test results suggest that going up to SPF 40 can actually help. Above SPF 40, it will likely wear off before it makes any difference. Instead, reapply every 2 hours and after swimming or sweating.
2013 Consumer Reports Best Buys
Equate (Walmart) Ultra Protection Lotion (SPF 50, $0.47 per ounce)
2012 Consumer Reports Best Buys
No-Ad Lotion (SPF 45, $0.59 per ounce)
Walgreens Continuous Spray Sport (SPF 50, $1.30 per ounce)
2011 Consumer Reports Best Buys
The Target Up & Up spray (SPF 30, $1.16 per ounce)
The Consumer Reports test results haven't always been consistent over the last few years. CR has noted that their testing on UVA/UVB effectiveness has varied from year-to-year with the exact same product, even though the manufacturers claim the formula hasn't changed. A brand that had one of the highest tested SPF in 2012, tested last in 2013. In addition, I noted last year that the Target spray which was a 2011 Best Buy wasn't even tested in the 2012 issue. It was included again in 2013, again taking the top score rated "Recommended" although it didn't win the Best Buy rating due the higher per-ounce cost.
I've tested a bunch of other sprays myself, including Neutrogena, Coppertone, and Banana Boat. Target was indeed the best value, with just-as-good performance and a great price compared to the big brands. I usually find it for under $0.75 per ounce. Neutrogena was my overall favorite as it was the least greasy, but it also cost more than twice as much. All of them tend to stain white clothing. (I use the Neutrogena lotion despite the higher cost for the face due to the non-greasiness.)
If you're pregnant, you should check your sunscreen for retinyl palmitate, a common inactive ingredient in suncreens which has been linked to birth defects and thus should be avoided by pregnant women.
Consumer Reports acknowledged that other ingredients in sunscreen have also been linked to health problems in animal studies. This may indirectly refer to another popular sunscreen guide by the Environmental Working Group (EWG) which only recommends a limited amount of sunscreens that don't include any ingredients they deem hazardous. EWG also recommends againsts using any spray sunscreen of any kind, due to the potential for inhalation. In contrast, CR believes that the benefits of sunscreens in preventing skin cancer outweigh potential risks from their ingredients.