Vanguard, a big name in defined-contribution retirement plans like 401ks, recently released their How America Saves 2013 report (pdf) which included data from over a million retirement plan participants. The report itself is quite dense and a bit insider-focused, but this Vanguard blog post teased out some interesting data about the average account balance, savings rates, and asset allocation of these employees.
Whenever you hear an "average" statistic involving retirement plans, it can be confusing because you're including both young, brand-new workers and those age 60+ who may have been working 30+ years. Thankfully, these stats are broken down into age groups. I threw the numbers into a spreadsheet to make the more palatable charts below. How do you compare?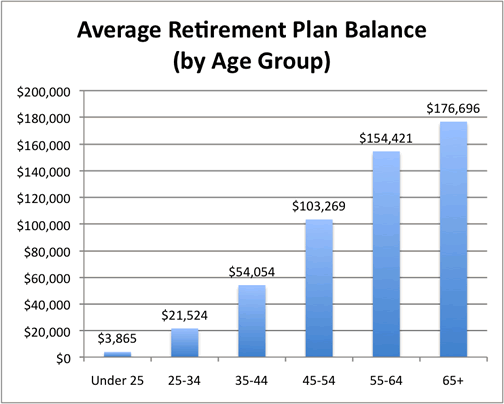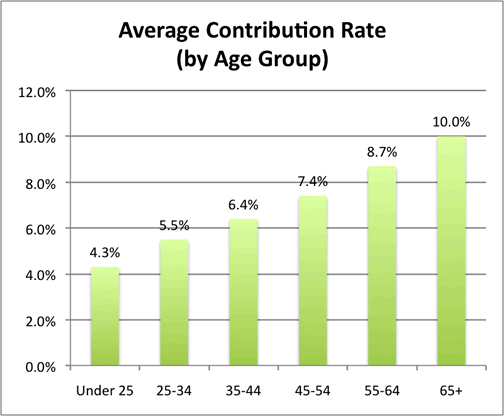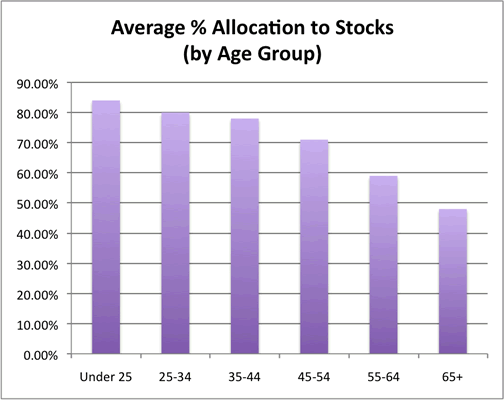 These numbers don't tell the whole story as people may have retirement savings outside employer-based plans, including any pensions, IRAs, or taxable accounts. Still, only around 25% of private-sector workers that participate in a retirement plan have both a pension and a defined-contribution plan (out of all workers, only 15% have a pension). This makes it seem unlikely that a 4-10% contribution rate will be adequate for the average worker to retire comfortably.
Some studies have suggested a minimum safe savings rate of 16%, and you can see the direct relationship between savings rate and years until retirement here.