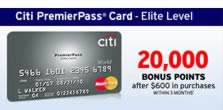 The Citi PremierPass cards are rewards cards that are targeted towards people who like to travel, especially those who fly on a variety of airlines and business travelers. There is a standard version with no annual fee and the Elite version with a $75 annual fee.
Sign-up Bonus and ThankYou Points
The Citi PremierPass Elite card is offering 20,000 bonus ThankYou points after spending $600 within 3 months.
10,000 ThankYou points can be redeemed for $100 in gift cards to a variety of places like Overstock, Macy's, Sears, or Gap. In addition if you used the fixed flight redemption option, you can convert 20,000 ThankYou points for any domestic coach flight up to $400 in value with no black-out dates. I've redeemed for a flight before and if it's on Expedia.com, you can have it. So if you get the Elite card bonus, you are basically getting a free flight.
Unique Rewards Program
Most of us are familiar with credit cards linked to a specific airline. But with the PremierPass Elite card, you can earn 1 ThankYou point for every mile you fly, on any airline. Perfect for work travel. In addition, you can earn 1 point for every miles flown on any tickets purchased with your card, even friends and family. You also get 1 points for each dollar spent on anything (with double points on everyday purchases at supermarkets and gas stations). This is in addition to the usual carrier-specific miles you'd usually earn.
So let's say you buy a $300 cross-country flight on Delta Airlines for yourself or a friend that travels 2,500 miles on the card. You'd get 300 ThankYou points for the purchase, 2,500 Delta miles, and 2,500 ThankYou points for flying. On a airline-specific branded credit card, you'd only get 300 miles for the purchases and the standard 2,500 miles.
Supposedly you can even get free unlimited companion travel on eligible fares – "Get Complimentary companion travel when you use the Citi PremierPass – Elite Level to purchase a round trip Coach Class excursion fare ticket for $299 or more in the continental United States and Hawaii." I'm skeptical as to what "excursion fare" means, though. (See comments below.)