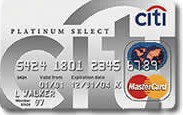 Speaking of household debt, Citibank is currently offering 0% APR interest on purchases and balance transfers for 18 months on its Citi Platinum Select MasterCard. Notice they are not allowed to say "up to" anymore with the new credit card laws. If you get approved – this card requires good to excellent credit – then you'll get the full 18 months. No annual fee.
Length of your introductory period will be 0% for 18 months from the date of account opening when balance transfers are completed within 4 months from date of account opening and 0% for 18 months on purchases from date of account opening.
Don't use this card to build up more debt, use it to lower your interest rate so you can pay down your principal faster. The balance transfer fee is 3% ($5 minimum) so it's not totally free money, but a one-time 3% fee spread out over 1 3/4 years is the equivalent of paying an annual interest rate of 1.7% per year. Compare that with your current interest rate – the national average is over 14%. Also compare to what P2P lenders like Prosper and LendingClub can offer, although their term lengths are over 3 to 5 years.
Take advantage of the flexibility as well. The 18 months applies to both purchases and balance transfers, and with Citi you can transfer your credit limit directly to your checking account or simply request a paper check. If you've already got this card, check out this list of low-fee 0% APR balance transfer offers for similar offers.