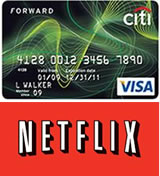 The Citi Forward® Card is running a limited-time promotion with Netflix for new cardmembers where they will pay for your Netflix streaming for an entire year if you use the card for payment. At currently prices, that's $7.99 x 12 = $95.88 + taxes. However, the wording of the fine print suggests that if you have a higher Netflix bill due to DVD rentals, it will rebate up to $10 a month = $120 for the year.
You must register your new Citi Forward Card with Netflix.com as the preferred payment method to pay for your month-to-month Netflix membership. You will receive a statement credit for the total Netflix monthly membership fee (up to $10 per month) on the same statement as the transaction at Netflix.
This actually would work perfectly for us since we are testing out a Netflix + Roku box combo to replace cable TV right now (review upcoming)… but I already have the Citi Forward card.
Basically, if you use Netflix, this is an up to $120 sign-up bonus with no additional spending requirement for what is actually not a bad keeper card with no annual fee. It offers 5x ThankYou points on restaurants (including fast food) and also "entertainment" = bookstores, record stores, movie theaters, and movie rental stores. For many years, the best part of the bookstore classification is that Amazon.com counted for 5x points. Recently there are rumors that Citi is thinking of no longer counting Amazon as a bookstore, although as of the last billing statement Amazon purchases did still work. Perhaps there is some "grandfathering" going on, but FYI. In any case, you still get 100 ThankYou points a month just for paying your bill on time.
Citi Forward® Card limited-release offer application link