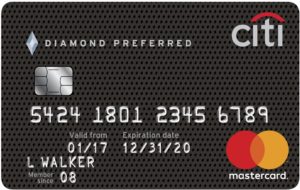 If you're in the market for a top notch balance transfer credit card, check out our list of the best credit cards offering a 0% intro APR on balance transfers.  Our partner Citi now has the Citi® Diamond Preferred® Card which gives you 0% Intro APR on Balance Transfers and Purchases for 21 months. After that, the variable APR will be 13.99%, 16.99%, 19.99%, 21.99%, or 23.99% based upon your creditworthiness*. Now, there is a balance transfer fee of either $5 or 3% of the amount of each transfer. No annual fee.
Comparing this with the other best no fee 0% APR balance transfer offers, the Chase Slate® mentioned earlier has $0 balance transfer fee. Transfer a balance during the first 60 days your account is open, and as an introductory offer you will pay no balance transfer fee!*. If your balances are less than or around $7,000 you would get six more months at 0% with the Diamond Preferred over the Slate. If your balances are higher and/or you plan on paying them offer within a year, then the Slate would work out better.
Which reminds me… Citibank balance transfers are the easiest to get in the form of a check sent directly to you. I just confirmed in my Citi account and here is a screenshot to show what to look for.
*Online purchases are coded differently than physical locations where you swipe your card – even paying your cable bill online or auto insurance online counts.
"Disclaimer: This content is not provided or commissioned by the issuer. Opinions expressed here are author's alone, not those of the issuer, and have not been reviewed, approved or otherwise endorsed by the issuer. This site may be compensated through the issuer's Affiliate Program."  
"The responses below are not provided or commissioned by the bank advertiser. Responses have not been reviewed, approved or otherwise endorsed by the bank advertiser. It is not the bank advertiser's responsibility to ensure all posts and/or questions are answered."