Update: CIT Bank actually raised its rates on some of their CDs with a raise-your-rate feature. Rates updated in review below.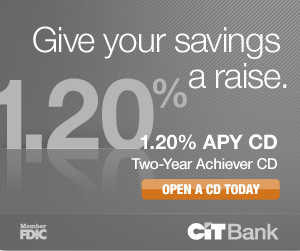 As a follow-up to my cash reserves post, I wanted to note that CIT Bank also has some very competitive rates on FDIC-insured CDs with added flexibility that makes them unique. They have a very simple website and appear to be focused on certificates of deposit, although they recently debuted a savings account with a 1.05% APY interest rate on balances above 25k.
Their Achiever CD has a current rate of 1.05% APY for 1-year term and 1.20% APY for the 2-year term with a $25,000 minimum opening deposit. The first unique feature is a "rate bump" option that allows to you raise your rate again in the future if the rate increases. The second unique feature is that you can add more money to your CD one time at any point you choose throughout the term.
You buy CDs to guarantee your rate won't drop during the term. But these two features allow you added protection from rising rates in the future, and you already start with a competitive rate. You could match future rates, and move your other money over to match those rates as well. The primary limitation would be the higher minimum deposit requirement. Interest is compounded daily.
If you don't have the $25,000 minimum, they also have their term CDs with a $1,000 minimum opening deposit. Those are paying 1.01% APY for 1-year term, 1.15% APY for 2-year, and 1.30% APY for 3-year. Those are nearly as good as the Achiever CD, but they don't have the rate-bump and add-on features of the Achiever CD. The early withdrawal penalty is 3 months of interest for the 1-year CD, 6 months interest for the 2-year CD. A quick comparison table:
| | | | | |
| --- | --- | --- | --- | --- |
| Name | Term | Minimum to open | Interest rate | Features |
| Achiever CD | 1-year | $25,000 | 1.05% APY | One-time rate-bump, one-time add-on |
| Achiever CD | 2-year | $25,000 | 1.20% APY | One-time rate-bump, one-time add-on |
| Term CD | 6-months | $1,000 | 0.45% APY | Low minimum deposit |
| Term CD | 1-year | $1,000 | 1.01% APY | Low minimum deposit |
| Term CD | 2-year | $1,000 | 1.15% APY | Low minimum deposit |
| Term CD | 3-year | $1,000 | 1.30% APY | Low minimum deposit |