I've already written about the Ink Plus® Business Card (review) previously – which has a great 60,000 point bonus worth $725 towards any travel, good Ultimate Rewards structure and redemption options, and the first year annual fee is waived. If you have a Chase Sapphire Preferred that's nearing the end of the first year and you don't want to renew, you can just open up an Ink card and transfer your Ultimate Rewards points balance over instantly for free. You can even transfer points between spousal (or anyone's) accounts for free, so it's easy to keep the balance alive.
An added Ink card benefit on top of all that, buried in the benefits details, is a mention of "complimentary airport lounge access":
Complimentary airport lounge access to over 350 VIP lounges worldwide. Lounge amenities include internet access, complimentary snacks and beverages, phone, fax, conference rooms and more. ($150 comparable value)*
How exactly do I get this free lounge access? Once you get your Chase Ink Bold or Ink Plus card, you must go to loungeclub.com/inkcard and enter an invitation code which should be mailed to you with your card details. Otherwise, simply call the number on the back of your card and they'll tell you. (It's not very creative.) You'll sign up with your personal info and card number.
Next, Lounge Club will send you a package with your personalized membership card, welcome letter, and informational brochure. You'll need to present the physical card at the airport lounges to gain access, but you can find a directory of all the available lounges at either LoungeClub.com or via their iPhone/Android smartphone app.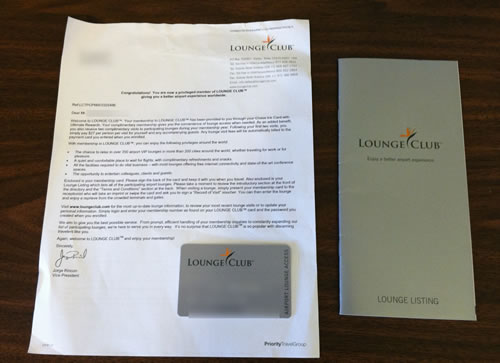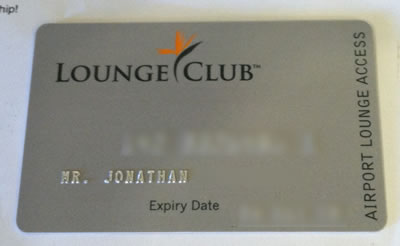 Membership details. Every year you have the Ink Bold/Plus card, you get a free annual membership to the Lounge Club. In addition, you get 2 complimentary visits to any "first class" airport lounge in their directory (or one visit together with you and a companion). Additional visits are $27 per person, per visit (ouch).
In the United States, the lounges are primarily located in the major cities, including San Francisco, Los Angeles, Seattle, New York City, Miami, Washington DC, Boston, Chicago, Honolulu, Orlando, Portland, Las Vegas, and Dallas. They also have a big list of international airport lounges, which are often nicer and have hot showers in addition to the usual comfy seats, snacks, WiFi, and alcohol. I would definitely try to save my lounge access for an international lounge with a shower; those feel great after a long flight.
The $150 value claim comes from the $99 annual membership fee, which usually just gets you the right to buy daily passes for $27. So the annual fee plus 2 daily passes = $99 + $27 + $27 = $153. There's no way I would place my own value that high, but if you're stuck in a delay or long layover, this free lounge access would definitely be appreciated. I personally just keep the card in my laptop/carry-on bag that I always use for travel so that it's always available if I need it.
More details on the Ink cards themselves:
"Disclaimer: This content is not provided or commissioned by the issuer. Opinions expressed here are author's alone, not those of the issuer, and have not been reviewed, approved or otherwise endorsed by the issuer. This site may be compensated through the issuer's Affiliate Program.  "The responses below are not provided or commissioned by the bank advertiser. Responses have not been reviewed, approved or otherwise endorsed by the bank advertiser. It is not the bank advertiser's responsibility to ensure all posts and/or questions are answered."