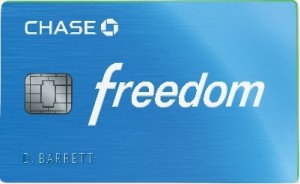 Chase Exclusives is a program that encourages you to open a Chase checking account whenever you have any other relationship with Chase. I closed my Chase (formerly WaMu) account a while back after they slowly started making it harder to keep as a secondary account, but some of these perks actually seem pretty good. I remember hearing something about them, but never actually took a good look at the details until now.
10% Extra Cash Back on Chase Freedom
The Chase Freedom® – $150 Bonus is a popular cash back card that features 5% cash back on rotating categories and 1% back on everything else. This quarter you'll get 5% back on all purchases at gas stations and on local commuter transportation. (up to $75 cash back a quarter based on $1,500 in purchases). Check out my page on 5% cash back credit cards for more info.
However, if you have a Chase checking account, they will add an additional 10 points. Since 100 points is worth $1, that's basically saying every purchase on the Chase Freedom earns 1.10% cash back and every 5% category purchase earns 5.1% cash back. For someone like me that puts everything on their credit card for easy expense tracking, that can add up especially with smaller purchases.  Currently, the Chase Freedom has a promotion offering a $150 Bonus after you make $500 in purchases in your first 3 months from account opening and an additional $25 Bonus after you add your first authorized user and make a purchase within this same 3-month period.
1% Mortgage Cash Back program
If you have both a Chase checking account and a Chase mortgage, you can earn 1% cash back on your mortgage payments (principal + interest). You have to have the checking account open before the mortgage closing, and enroll in automatic payments from said account within 60 days of closing. If you take the option of having your 1% cash back applied towards your loan principal, that works out to shortening a 30-year fixed mortgage by 9 months if you stick with it. (They really should make this an option on other mortgages, paying just 1% extra instead.)
I don't know how good Chase mortgage rates are, but I'd probably get a quote now from Chase just to see if they are competitive. Overall though, it would probably be better to just get a better interest rate and pay extra towards your principal as if you had a higher mortgage (takes discipline).
$150 New account opening bonus
Thinking about opening a new account? You can also get a $150 bonus through this link if you open a Chase Total Checking account with $100 and set up direct deposit (new customers only). To avoid monthly service fees, you must do any one of the following each statement period:
Have monthly direct deposits totaling $500 or more made to this account, or
Keep the daily balance in your checking account at or above $1,500, or
Keep an average balance of $5,000 or more in your checking and other types of qualifying Chase accounts.

"Disclaimer: This content is not provided or commissioned by the issuer. Opinions expressed here are author's alone, not those of the issuer, and have not been reviewed, approved or otherwise endorsed by the issuer. This site may be compensated through the issuer's Affiliate Program."
"The responses below are not provided or commissioned by the bank advertiser. Responses have not been reviewed, approved or otherwise endorsed by the bank advertiser. It is not the bank advertiser's responsibility to ensure all posts and/or questions are answered."