The deadline for filing your federal taxes this year is Monday, April 18th, 2011. If you file for an extension, you will automatically be extended to Monday, October 17, 2011. Here's how you can e-File a federal extension online in minutes for free.
Option #1: TaxACT

This is how I did my extension last year. Just sign up with TaxACT and e-file your extension for free through them. It's quick. It's easy. You don't even need to actually use them to file your taxes later, although TaxACT is also free for federal taxes with e-File included regardless of income, and is only $14.95 for state returns with free e-File.
(That's cheaper than TurboTax or TaxCut, although if you're already familiar with those programs it may be worth the extra bucks to stick with them, since you can save time by importing your previous year's data.)
Directions
To register with TaxACT, you just need an e-mail and to set your passwords. To go directly to the extension form, click on the "Filing" tab on the top, and then the "File Extension" link right below it (see below). You will then be walked through the Form 4868 in a question-and-answer format. You will then be able to have the form filed electronically instantly (or you can print and snail mail).

If you wish to make a tax payment, you will be able to choose to pay with direct withdrawal from a bank account (account and routing numbers required) or pay with a credit card (IRS fees apply). Afterward, they will send a confirmation of your accepted extension e-file by e-mail or text message. I got mine within a few hours.
Option #2: Free File Fillable Forms
This one's a little harder to find, but here are some step-by-step instructions. Go to the Free File Fillable Forms site (go alliteration!) and click on "Start Free File Fillable Forms". Click "Sign-in" on the top left, and create a new account with your e-mail and password information. After you're signed in, click on "Continue" and pick your form. Go with the full form 1040. On the top right, you should see an icon with the label "File an Extension".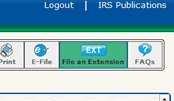 This will bring up Form 4868. Click around the form to fill the boxes out. You'll need to estimate your total tax liability, but since this is just an online version of the form so there is no guidance included. As above, you can request your estimated tax payment to be withdrawn electronically by supplying your bank's routing and account numbers. For identification purposes, you'll need your adjusted gross income (AGI) from your 2009 tax return.
Please note that filing an extension only extends the time to file your return and does not extend the time to pay any tax due. To avoid late payment penalties and interest you must estimate what tax will be due and pay that when you file the extension. I would overestimate my tax liability a bit to avoid penalties, and get a slight refund when I eventually file my full return.
Got state income taxes as well? Here is a helpful page on state-specific tax extensions.