April 15th is only a month away, and you haven't started your taxes yet. Time to file an extension! The IRS automatically grants a 6-month extension to anyone who asks. Asking a search engine will often direct you towards websites like FileLater.com that charge upwards of $20 to file the form, but here are two ways that anybody can e-File for free. Apparently, the only thing keeping these sites in business is lack of education!
Method #1: TaxACT


This is how I did my extension last year. Just sign up with TaxACT and e-file your extension for free through them. It's quick. It's easy.
You don't even need to actually use them to file your taxes later, although TaxACT is also free for federal taxes with e-File included regardless of income, and is only $14.95 for state returns including free e-File. That's cheaper than TurboTax or TaxCut, although if you're already familiar with those programs it may be worth the extra bucks to stick with them.
Method #2: Free File Fillable Forms


This one's a little harder to find, but here are some step-by-step instructions. Go to the Free File Fillable Forms site (say that 5 times fast) and click on "Start Free File Fillable Forms". Click "Sign-in" on the top left, and create a new account.
After you're signed in, click on "Continue" and pick your form. Go with 1040. On the top right, you should see an icon with the label "File an Extension".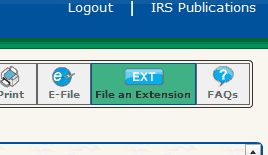 This will bring up Form 4868, Application for Automatic Extension of Time to File U.S. Individual Income Tax Return, a long title for a really short form. You'll need to estimate your total tax liability for 2009. This form only extends the time to file, not the time allowed to pay. Overestimate your tax liability to avoid penalties. Here is how I estimated my tax liability.
You can even request your estimated tax payment to be withdrawn electronically by supplying your bank's routing and account numbers. For identification purposes, you'll need your adjusted gross income (AGI) from your 2008 tax return.
Got state income taxes as well? Here is a helpful page on manually requesting state-specific tax extensions.