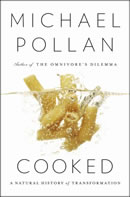 Consider the following questions that you may have asked yourself recently:
What can you do to consume fewer calories while eating healthier food?
How do you get your family to spend more time together, talk, and connect?
How do you get the public to care more about what they are eating, which in turns forces the food corporations to improve their standards?
What can modern super-specialized citizens do to feel more in touch with nature and self-sufficient?
How can you save some money?
I'm sure the title has given it away by now, but the answer is to cook! Specifically, cook at home for yourself and your family, as close to from scratch as possible. At least, that's the lesson from the book Cooked: A Natural History of Transformation by Michael Pollan. A previous post expanded on the health benefits of cooking at home, and the book examines cooking as broken down into the four elements: Fire (BBQ), Water (Braises), Air (Bread), and Earth (Brewing).
Indeed, why is it that we seem more obsessed by food than ever (Food Network, Cooking Channel, Yelp, Food Bloggers Everywhere) at the exact same time that fewer and fewer people actually know how to cook? The food industry is betting that the current generation of kids will have hardly any idea of how to cook even basic dishes, as it means even more $$$ for them! A quote from consumer researcher Harry Balzer: