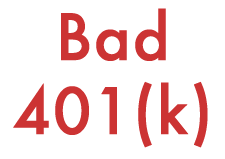 Speaking of how to deal with bad 401(k) plans… Yale Professor Ian Ayres decided to write letters to thousands of 401(k) plan sponsors that have high costs and fees according to data from website Brightscope. I'm totally paraphrasing and adding humor (although I already found it amusing), but Ayres basically wrote:
"Hey.
I'm a Yale Law prof. Your 401(k) plan ranks among the most expensive. I'm writing a paper about how expensive plans suck money from employees. You do know that you have are required by law to act solely in the interest of participants, right? Oh, by the way, I'm going public with your company name in Spring 2014. You might want to make some changes to your plan before then.
Have a nice day!"
You can read a PDF scan of one of the letters here. Here is a draft of his paper titled "Measuring Fiduciary and Investor Losses in 401(k) Plans".