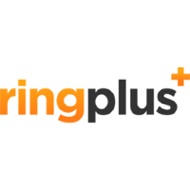 Updated with new limited-time generous plans. RingPlus is a Sprint MVNO that offers cheap cellular phone plans, starting at… $0. You can bring over an off-contract Sprint phone (check eligibility) or you can buy one from them (slightly more expensive that on secondary market). They make money partially from ads – ads play whenever you call someone instead of the normal ringing. When your friend picks up, the ad stops immediately. You also pay for any overages past your free allotment. There are no contracts and no activation fees.
Recently, Ringplus has been aggressively courting new customers with limited-time plans. RingPlus free plans are usually only open a for a limited window, and then it closes for a while. But recently, their plans have been getting more generous, with special super-generous plans available for a few hours only. These have very little notice, but it's worth checking their site daily if you are very interested. For example, I was able to jump on a plan with 1000 min, 1000 text, and 1000 mb every month for free. The fine print states that I must keep a non-zero balance, otherwise I will be charged a $10 top-up that will apply to any future overages.
The most recent offer is here and I can write about since it actually lasts more a few hours! Here is the best link for current offers. You can again get 1000 minutes, 1000 text, 1000 mb data until Monday 10/5/15 at 10 pm Pacific. Eligibility includes new Member and existing member sign ups with any eligible Sprint Bring Your Own Device which has not been previously activated on RingPlus for at least 30 days. They also require you to share on social media. If you miss this one, be on the lookout for future phases.
You may also find a "Jasmine" Plan with 500 minutes, 500 texts, and 500 MB of data for $0 a month with fewer restrictions.
The most important thing is to find an eligible phone and activate it during the window. It can be an ancient flip phone from Virgin Mobile (Sprint MVNO). Later, you can swap the phone out for 99 cents and keep the free plan.
You will need a credit card on file, although some of their plans don't even require a credit card (but come with much fewer free minutes). No additional activation fee. Not even additional taxes are due on the zero plans (taxes are due on top-ups). Here's a screenshot of their current plans, but again they change daily.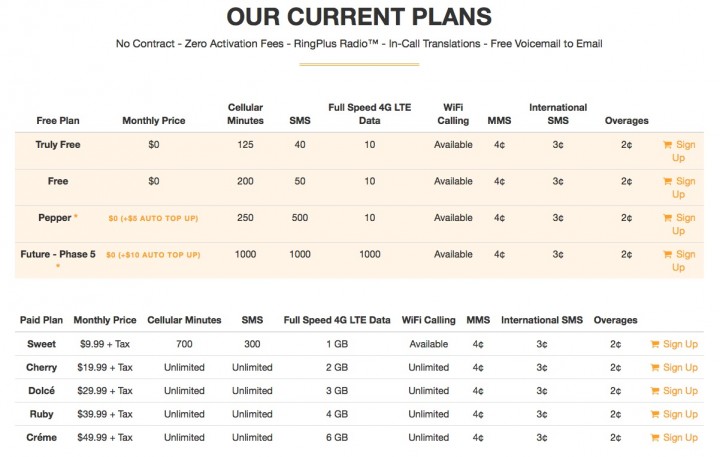 Here's a screenshot of my dashboard that tracks your usage:

Are there any catches?
You have to sign up for their free plans during certain availability windows. That means you'll need the ESN of an eligible off-contract Sprint phone waiting around, ready to go. If you're like me, you have to resort to asking all your friends if they have any old Sprint phones you can have.
In the past, RingPlus has discontinued their free plans without much notice if they can't line up enough advertisers in your calling area. That would be annoying, especially if you invested good money into a Sprint phone. Have a backup plan.
Honestly, I don't know if giving away this much free talk and data is a viable business model. They are definitely trying to grow customer base and sacrifice short-term profitability. Again, know that they may cease operations with little or no notice. Plan ahead as to how you would quickly port your number to another cheap service.
If your phone is not eligible, then they may de-activate your plan in the future, even if you manage to activate it initially.
You must maintain activity on your plan. If you don't make a call every 60 days (may differ by plan), they will de-activate your account and you'll have to pay a fee to re-activate.
If you do sign up and decide to link your credit card, know that overages cost 2 cents per text, minute, or MB. MMS picture messages are at an additional cost (4 cents each). Roaming is available, but those overages are much more expensive. I would disable roaming completely on your phone to avoid such surcharges.
In case you were wondering, this is not a VoIP-only service like FreedomPop as normal calls use the Sprint voice network. However, free WiFi calling is an option so you can save your minutes. I know there are some RingPlus users out there as readers, so please share and discuss in the comments!