The following is a guest post from reader Leslie, who shares her story of returning to the workforce by starting her own business in Florida. You can see more of her work at on Facebook and soon at LALGraphicDesigns.com (currently under construction).
Background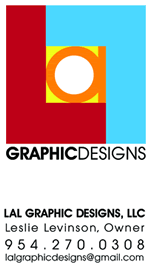 As a thirty-five year old mother of three, for the past decade I have been fully employed as a stay at home mom. When my first child was born I put my career aspirations and four year college degree aside to focus on raising our children. Before motherhood, I used to work as a graphic artist doing on-air graphics for a local TV station and a national satellite TV provider. Now that all the kids are all in school, with encouragement from friends and family, I recently started my own home based graphic art and design business. This is the story – or at least the first chapter – in a story which just began to be written about my home based business.
After "retiring" to run our household, I kept my artistic and computer skills fresh over the past several years by volunteering and providing free graphic arts services for community organizations, schools, friends and family. Samples of school T-shirt and business logo designs are copied in the margins. Although I committed my energies to raising our children, I had always wanted to run my own business. As set forth below, my contacts through our local parent teacher associations and charities have developed into business clients.
Formation and Formalities