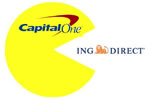 Per many reports from Reuters and WSJ and more, Capital One is buying online bank ING Direct. After being bailed out by the Dutch government in 2008, parent company ING Groep NV was required to sell the US bank by 2013 as part of their restructuring plan. Other major suitors included Ally Bank and General Electric.
So while a takeover was expected, many people were unhappy with the announcement that the were soon to be customers of Capital One. They were rightly afraid the stubbornly simple and straightforward bank culture would change. I personally didn't really care, banks change all the time and I just go with whomever has the best rate and feature combo available right now. ING Direct has been content with "just good enough" rates for a while. Here's where I keep my cash these days, I'm earning much more than 1%.
However, the NYT Times Bucks blog ran an interview with Capital One about the sale yesterday, and it was just too horrible not to make fun of. Read the original, real interview first, with more vague, lawyer-approved, corporate double-talk you could imagine. In my *parody* version below, let's imagine what they'd say if allowed to be brutally honest.
—
Q: Why are customers of ING so upset about the sale of their bank to Capital One?
ING Direct was known for simplicity, directness, and good customer service. Capital One is known mostly for credit cards that don't properly report credit limits to bureaus so it hurts your credit scores, a surprisingly good foreign transaction fee model, and TV ads with Vikings and Alec Baldwin.
Q: What changes are you planning to make to ING Direct's account offerings? Will subaccounts for specific savings goals remain?
Well, many good features including that one are already in place and it would be really, really stupid to mess it up. But the lawyers won't let me commit to anything in writing or they will eat a kitten.
Q. Are you planning any new fees or minimum balance requirements?
If we think it will make us more money in the end, then hell yeah.
Q: Does the reaction suggest Capital One might need to enhance customer service? How might this be done?
Yes. No idea.
Q. Will ING Direct be operated separately or integrated into Capital One's operations?
Look, we just saw over $80 billion in bank deposits paying out just 1% interest. Do you have any idea how much interest we'd get paid by lending that out to people with our credit cards??? Cha-ching!
—
To repeat: These are a parody. I am actually a satisfied customer that has used a CapOne credit card for international purchases for several years. But hopefully they'll realize that bland PR talk does not make more engaged, passionate customers.