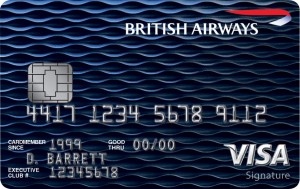 Here's an offer that we took advantage of previously for multiple free flights both within the US or internationally. The British Airways Visa Signature® Card is offering 50,000 bonus Avios after you make $3,000 in purchases within the first 3 months of account opening.
In addition to the bonus Avios, you will also get 3 Avios for every $1 spent on British Airways purchases and 1 Avios for every $1 spent on all other purchases. Another perk is no foreign transaction fees, handy when traveling and saving you up to 3% off everything compared to cards that have the fee. Every calendar year you make $30,000 in purchases on your British Airways Visa Card, you'll earn a Travel Together Ticket good for two years. Smart Chip Technology allows you to use your card for chip based purchases in Europe and beyond.
The Avios reward chart is now based on how far you want to travel in terms of miles. So what can you do with all those points?
Redeem awards domestically on partner American Airlines. Within the US, it's usually easiest to find flights on partner American Airlines. There are no fuel surcharges when booking with American. Seating availability will be limited, but if you are flexible there is decent inventory.
Los Angeles to Honolulu, Hawaii using only 25,000 Avios points roundtrip. I ran a quote in Fall and it cost $659 broken down to $621 fare and only $38 in taxes. So in this case you could save $621 in exchange for 25,000 points, which is 2.5 cents per point. You can also do JFK to LAX for 25k points roundtrip.
Shorter-distance flights can be a good deal as well. Round Trip from Chicago to New York City is only 15,000 Avios points + about $30 in taxes. Charlotte, NC to New York City is only 9,000 Avios roundtrip. Los Angeles to Las Vegas is also 9,000 Avios roundtrip. Los Angeles to Portland, Oregon is 15,000 Avios roundtrip.
More details below:
Finding partner awards on BA.com is better than is was in the past, so try it first. Type in your to/from cities within the US, choose to book flights with Avios points, and then click to include partners:

If you have the flexibility, you can also search for additional dates for more available seats. Here's a trip I found for a short flight from San Francisco (SFO) to Los Angeles (LAX) for just 9,000 miles + $5. So with 50,000 bonus miles, you could take 5 of these flights and have points left over!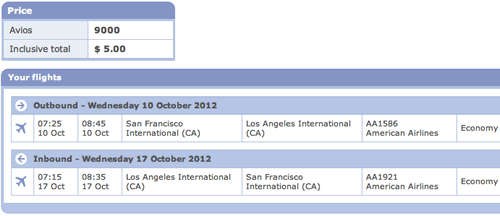 You may find more space going business class in the US. If you're travelling on set dates, you may want to look for business class tickets instead. Why use 50,000 miles on some "anytime" Economy ticket when you could flight in business class comfort? Here's a cross-country business class trip I found from San Francisco (SFO) to New York (JFK) for 50,000 miles + $5.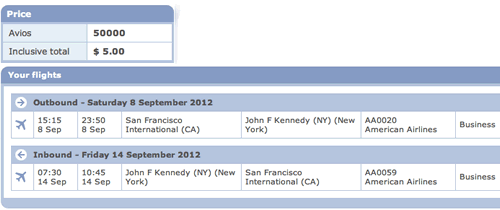 Use the American Airlines AA.com website and look for "MileSAAver" awards. Record the exact flight dates and numbers, and then call at British Airways at 1-800-452-1201 to book them. If you can't find the same flight on BA.com, they should waive the phone book fee (they did for me). Don't be discouraged if you have to use this method, especially if you aren't flying nonstop. Also, call back and talk with a different agent if they aren't helpful initially.
Redeem Avios points for business class to South America. There are also no fuel surcharges with booking on LAN Airlines. You can get New York to Buenos Aires, Argentina for 50k Avios roundtrip.
Redeem Avios points for business class to Europe. Since business class is so expensive, but the flight across the Atlantic is so long, redeeming points for business class tickets can be a good value as well, but there are big fuel surcharges. But if you really want to go this route as we did, they are a much smaller proportion and your trip will be so much more comfortable and truly an experience.
A roundtrip business class flight quote from New York City to London was $3,640, with $2,540 in fare and $1,100 in taxes. I could book the same award ticket for 80,000 Avios points plus $1,100 in taxes. Now we're talking 3.2 cents per point.

Therefore I figured, why not use this card as an excuse to go to Europe in style, because I would never have done so otherwise. When booking my trip, I ended up calling in and getting a really nice customer service rep that used her tricks to nab me a combination of American and British Airways flights from my city to both London and Rome and back, all for under 100,000 miles. The flight was a first-time experience for me… priority check-in and boarding, first class lounges with showers and buffets, multi-course inflight meals, actually sleeping on seats that were fully flat, etc.
How not to use your miles. Don't use Avios for a economy class transatlantic flight from USA to Europe, because you'll still be subject to taxes and fees on award redemptions, which are often half the entire cost of the ticket. I ran a quick search for a random New York City (JFK) to London (LHR) flight that cost $1,050, the taxes and fees alone were $650. You can get the $400 "fare" for 40,000 Avios points, but that's only 1 cent a point value.

Finally, you can also use partner airlines such as LAN Airlines or Cathay Pacific to get from the US to both Asia and South America on business class for 100,000 Avios or less.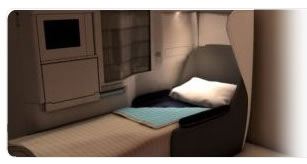 Finally, if you can manage to spend $30,000 a year on the card, you can even earn a 2-for-1 Travel Together Ticket good for two years when you redeem for a flight on British Airways. With the Travel Together Ticket, you can bring a companion on your next reward flight without using any additional Avios points. Fees and taxes do still apply, but the voucher is valid to any destination and includes first/business class. Another family tip is that you are allowed to pool miles between multiple people in a "household account" to make redemptions easier. So you, your spouse/partner, and other relatives can share points.
To get the max bonus requires a decent amount of spending, but the value is so high that it may be worth the effort. This was actually done x2 for Mrs. MMB and we traveled together. We householded accounts and that way I could redeem flights for both of us. It worked well because we could all book tickets together on the same flight all at once.
"Disclaimer: This content is not provided or commissioned by the issuer. Opinions expressed here are author's alone, not those of the issuer, and have not been reviewed, approved or otherwise endorsed by the issuer. This site may be compensated through the issuer's Affiliate Program.  "The responses below are not provided or commissioned by the bank advertiser. Responses have not been reviewed, approved or otherwise endorsed by the bank advertiser. It is not the bank advertiser's responsibility to ensure all posts and/or questions are answered."