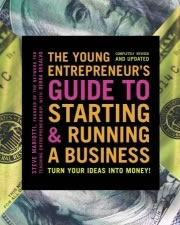 I believe that entrepreneurialism is, like many things, a combination of talent and learned skill. Some people will take to it naturally, but a great many more can become successful and independent business people with the proper inspiration and guidance. I plan to help and encourage my daughters to set up their own micro-businesses once they are teenagers, whether it is coding apps or starting a booth at the farmer's market. Some things you can't learn from a book.
Oh wait, this a book review! Anyhow, since I love the idea of young folks starting businesses I took the opportunity to review a copy of the revised 3rd edition of The Young Entrepreneur's Guide to Starting and Running a Business by Steve Mariotti. (I received a free review copy of this book from the publisher, as apparently did most of the Amazon reviewers. If you are a blogger, check out Blogging for Books for review books in your area of interest.)
This is a rather thick paperback at nearly 500 pages, and it uses that space to try to be a little of everything:
A reference book, covering everything from basic accounting and balance sheets to legal structures (corporation vs. sole proprietorship vs. LLC) to franchising.
An easy-to-read guide for beginners, which means that the treatment of all the above topics is concise and simplified (and thus not very thorough or detailed).
A collection of inspirational case studies from the non-profit group Network for Teaching Entrepreneurship (NFTE), which the author founded. You'll read about many young folks who started their own business in various fields and most of them plan to continue working on them through college and beyond. Sample businesses include website design, party DJ, landscaping, sport or fashion apparel, and Honest Tea.
In the end, like many things that try to be all things to all people, it ends up not being great at any one single thing. It is somewhat all over the place. The book spends time telling you to save money by plugging in your computer and printer into a smart power strip to reduce "vampire" draw. A bit later, it wants to help you prepare for franchising and an IPO. Huh?
Personally, I would tell a young reader to just read all the "An Entrepreneur Like You" case studies first, and see if they have the fire to just go ahead and try to get that first customer. Then, after some successes and failures, they can use this book as a resource to answer any specific questions. How many young people want to read about OSHA regulations or double-entry bookkeeping before making their first dollar?!
For me, I did enjoy reading the case studies but for the other stuff I'd probably just look up on the internet as needed. I might read the marketing section again. All in all, this might make a nice gift for a recent graduate or young person that has shown some entrepreneurial spirit.