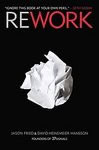 Rework is a book written by the founders of 37Signals, a company that makes online collaboration software like BaseCamp. They also write about running small businesses on their blog Signal vs. Noise. It is readily admitted that this book is a condensed and tightly edited version of topics from their blog. I don't read their blog regularly, but had heard of it when I came across this book while browsing inside Barnes & Noble.
This is a short book with a casual writing style, complete with about 60 "chapters" that read just like blog posts. Many of the posts chapters make it a point to contradict common "rules" within the entrepreneurial and/or MBA-driven world. Here are few overall ideas that I noted, which the authors support with their own experiences.
Don't learn from your mistakes. Learn from your successes.
Don't make your business big. Small is okay.
Don't do surveys or market research. Make something you would want to use.
Don't wait for perfect to launch. Just make a decision and correct course as needed.
Don't make your product do everything, especially if it means you'll have to do it half-ass. Make it do important things, well.
Don't hire based on GPAs or degrees. 90% of Fortune 500 CEOs did not come from an Ivy League for undergrad. The most common undergraduate school among them? University of Wisconsin.
I don't use any of the 37Signals products, but they have their own niche, and they make what seems like good money at it. I believe their target sweet spot is for people who are self-employed or wish to work in a small but passionate small business that has no intentions of hiring 500+ employees or filing for IPO. This book is not for those with Facebook or Twitter-like aspirations, but if you're trying for something smaller, I would recommend reading this book.