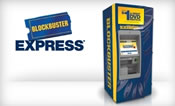 Updated with new codes. Below is an easy way to get free promo codes good for a free $3 off coupon on DVD rentals at all Blockbuster Express kiosks. Their rental price structure has changed to $1 to $3 a day depending on how new the movie is, so these are again free rentals.
New method: You must text a special keyword to 39777 and receive a unique one-time use promo code back via text message that will expire in 10 days. The code takes $1 off any rental transaction. Active keywords (newest listed first), usually found via Slickdeals:

CAB
SPAIN
BALA
LARRY
BOOTS
MARTIN
HOUGH
ADAM
HENRY
MILLA
THERON
MICHELLE
GEORGE
TINTIN
JODIE
JONAH
KERMIT
ROONEY
BEAN
SANDRA
CIRCLE
BARBIE
HORSE
LION
ALVIN
STREEP
DARK
BRAND
SPY
TOM
Does not cover additional nights. Unfortunately, you can't use Google Voice to text the codes. You'll need a real cell phone or some other alternative (let me know if you find a free one). Make friends with someone with unlimited texting, possibly the person in front you in line in front of the kiosk.