Online investment manager Betterment.com recently announced an upcoming change to their portfolio asset allocation, specifically their bond portion. Here's a visual example of the ETF changes: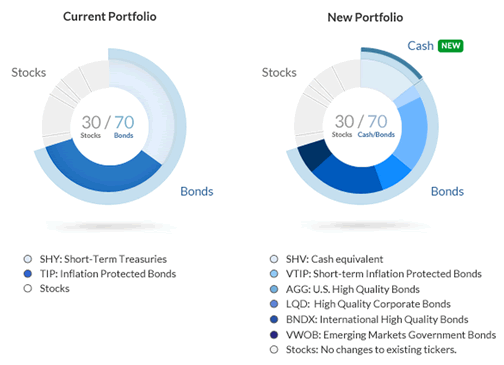 (click to enlarge)
I have mixed feelings about this change…
This is a fundamental shift in philosophy and it smells like performance chasing. The original allocation of 100% Treasury bonds (50% Nominal, 50% Inflation-Linked) likely came from David Swensen, as he is the Yale Endowment manager that supported the idea that you should own only the highest-quality bonds and take your risk on the stock side where your interests are aligned with the corporations. (With bonds, corporations and governments are trying to look as safe as possible even if they aren't. This way, they pay lower interest rates.)
Now, suddenly they want to shift to a "broad global exposure" type of portfolio with lower credit quality and higher risk. Why now? Why was 100% US fine for 3 years but no longer? Perhaps because Treasuries and TIPS in general haven't been doing that great recently? Perhaps because Emerging Markets bonds have had very high returns during that same period?
Still, it is following general industry movements. Vanguard has also added international bonds to their lineup of Target Retirement Funds. Many more international bond funds are available from many other providers. It appears that the costs for investing in international developed and emerging market bonds have dropped low enough that they can be indexed efficiently. I'm personally not convinced it is necessary and don't own any international bonds myself, but I can understand the diversification argument.
It's a move towards more complexity and asset-class overlap. Total US Bond already has corporate bonds, so why add more? It is to increase yield since Treasuries are yielding so little?
More tax messiness. I have an account, and I know that Betterment already makes a ton of little tax lots if you hold it in a taxable account. Thank goodness it imports directly into TurboTax software, but I'd get tired of holding a brand-new portfolio every other year. They just changed their stock allocation significantly in 2011.
Cash? Meh. They make a big deal about adding cash (technically T-Bills and other Treasuries maturing in less than a year), but really it doesn't seem like much of anything. They state that cash will only be included in portfolios with less than 42 percent stock allocation and only recommended for goals with a time horizon of five years or less. I wouldn't use Betterment for any goals within 5 years in the first place.
Current Bond ETF Breakdown
50% iShares Barclays TIPS Bond ETF (TIP)
50% iShares Lehman 1-3 Year Treasury Bond ETF (SHY)
Future Bond ETF Breakdown (variable %)
"Cash" iShares Short 0-1 Year Treasury Bond ETF (SHV)
Vanguard Short-Term Inflation-Protected Bond ETF (VTIP)
iShares Core Total US Bond ETF (AGG)
iShares iBoxx $ Investment Grade Corporate Bond ETF (LQD)
Vanguard Total International Bond ETF (BNDX)
Vanguard Emerging Markets Bond ETF (VWOB)
I logged into my account (I opened previously with $1,000 to try it out) but the new portfolio changes haven't been implemented yet. It appears that it won't be a fixed breakdown between the ETFs, but instead the percentage will vary depending on the stock/bond ratio. Once the percentages are provided and implemented, I will update my Betterment Review page. Betterment is still offering $25 sign-up bonus if you make an initial deposit of $250 within 60 days of sign-up and do not withdraw that initial deposit for 60 days.