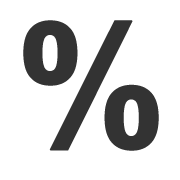 Our family keeps a full year of expenses put aside in cash reserves; it provides us with financial stability with the additional side benefits of lower stress and less concern about stock market gyrations. Emergency funds can actually have a better return on investment than what you see on your bank statement.
Interest rates are still depressingly low, and I haven't made any changes to how I hold my cash reserves in the past 12 months. However, I figured an update is in order as some of you may not be aware of the many options besides your too-big-to-fail megabank savings account paying 0.000001%.
My Cash Reserves
First, a quick recap of how I have our cash reserves split up. Keep in mind that most of the rates that I locked in are no longer available, but I did blog about them at the time.
Ally Bank Online Saving (0.87% APY of 6/24/14) as a no-fee overdraft backup to my Ally Interest Checking (0.10% APY on balances under $15k, 0.60% APY over $15k of 6/24/14), that way I can keep minimal balance in checking. Ally checking also has unlimited ATM fee rebates and no fees. I know there are some savings accounts paying a tiny bit more, but not worth the trouble for less than 0.1% difference on $10,000.
Ally Bank CDs earning between 1.84% and 3.09% APY. These are old 5-year CDs with a short 60-day interest penalty. Current CD rate of 6/21/14 is 1.60% APY with 150-day early withdrawal penalty.
PenFed CDs earning 5% APY. Long gone, although earlier this year PenFed did offer 5-year CDs at 3% APY (no longer available). Current rates are yawn-tastic.
I also have several US savings bonds that I now consider part of my retirement portfolio as opposed to cash reserves, as I don't think I'll ever want to cash them in before full maturity. More info below.
Best Currently Available Interest Rates
If I wasn't already invested as outlined above, here are the FDIC-insured or government-backed opportunities that I would be looking into based on my needs.
Everbank Yield Pledge Money Market and Everbank Interest Checking account both offer 1.40% APY guaranteed (up to $50k each) for the first 6 months for new accounts. Since it is fixed, this is essentially a 6-month CD with a higher rate than any other 6-month CD rate out there and with no early withdrawal penalty to worry about.
"Series I" US Savings Bonds offer rates that are linked to inflation. "I Bonds" bought right now will earn 1.94% total for the first six months, and then a variable rate based on ongoing inflation after that. You must hold them for a year, and if you redeem them within 5 years you lose the last 3 months of interest. While future rates are unknown, the net rate after a year is likely to be higher than any 1-year CD. More info here.
Rewards checking accounts pay above-average interest rates, but only if you to jump through many hoops. Make a mistake and you'll forfeit your interest for that month. Rates can also drop quickly, leaving a "bait-and-switch" feeling. If you're up for it, a recent example is Consumers Credit Union where you can earn up to 5.09% APY on up to a $10k balance, although 3.09% APY is probably a more reasonable expectation (there are a lot of hoops).
Certificates of deposit. If you have a large cushion, it's quite likely to just sit there for years. Why not put some money in longer-term investments where you can still take it out in a true emergency and pay an early withdrawal penalty. Synchrony Bank (formerly GE Capital Retail Bank) is offering a 5-year CD paying 2.30% APY for $25k+ balances (2.25% APY for $2k+) with an early withdrawal penalty of 180 days interest.
Willing to lock up your money for even longer? Tobyhanna Federal Credit Union has a 7-year CD paying 3.04% APY, however the early withdrawal penalty is a full 2 years of interest. More info here.
Even looooonger? "Series EE" US Savings Bonds are not indexed to inflation, but they have a guarantee that the value will double in value in 20 years, which equals a guaranteed return of 3.5% a year. However, if you don't hold for that long, you'll be stuck with the normal rate which is quite low (currently a sad 0.50% APY). You really want to be sure you'll keep it for 20 years.
All rates are believed current as of writing, 6/24/14.