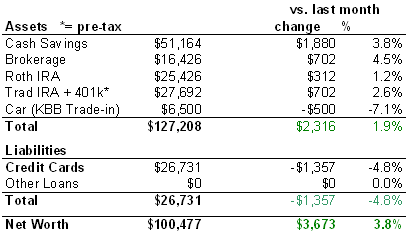 Dude, Why So Much Credit Card Debt?
Newer readers may note some serious credit card debt going on above. In short, I'm borrowing the money for "free" and keeping it in safe investments while earning me interest. Please see my posts on taking advantage of no fee 0% APR balance transfers for more. Some recent examples are my $9,000 from Citibank and $10,000 from Discover Card.
I was supposed to write up a brilliant summary of all this stuff over the weekend, but instead I spent it trying (unsuccessfully) to convert this blog seamlessly to WordPress.
Thoughts
We broke $100k this month! Not really a big deal though, as it all depends on how you calculate your net worth. I'm more interested in the change each month.
I'm working this summer, so that's the main reason for the healthy increase as opposed to previous months. (I also got a decent amount of free money from $20 Unwired Buyer bonuses.) Our living standards are the same as ever, so every extra dollar earned goes straight into the bank (whichever one is earning the best interest, of course!). I'm mostly motivated by a future home purchase, but we are still trying to strike a balance between saving cash towards a mortgage downpayment and putting away money for an early retirement.
On that note, I'm definitely going to open up a Solo 401k this month, can't keep putting it off. Most likely at Fidelity, as no other good index fund provider has one with minimal fees. Unless I'm overlooking someone?
I also made some changes to the spreadsheet above, including merging my 529 funds into the "Brokerage" category for simplicity. My wife's new 401k funds are also combined with the rest of my Traditional/Rollover IRA funds.
As commenter Susannah pointed out last month, I should really separate investment movements from actual cash savings. I haven't done so this month, mostly due to laziness. I should really use Quicken, but I've had a bad track record at keeping it updated. Right now I just add up my individual account balances and go.