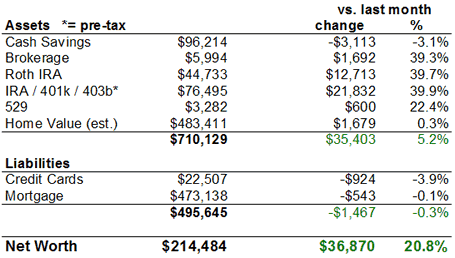 Finally a bit of green!
Credit Card Debt
For newer readers, don't worry. In the past, I have been taking money from credit cards at 0% APR and immediately placing it into high-yield savings accounts or similar safe investments that earn 5% interest or more, and keeping the difference as profit. I even put together a series of step-by-step posts on how to make money off of credit cards this way. However, given the current lack of good no fee 0% APR balance transfer offers, I am just waiting to pay off my existing balances.
Retirement and Brokerage accounts
March was a rebound month for the stock market, and our balances went up accordingly. We contributed $10,000 into IRAs, and $12,969 in 401(k) salary deferral and company match. A chunk of that was a true-up contribution from 2008. Score! See my 2009 Q1 portfolio update for more details.
Cash Savings and Emergency Funds
Our cash savings did drop due to the IRA contributions, but we still have over a years worth of expenses set aside. I want to keep one year of expenses for our emergency fund, and start looking for places to invest the rest.
Home Equity
I used the same internet valuation tools as before – Zillow, Cyberhomes, Coldwell Banker, and Bank of America (old version). The magical elves have decided that my home is worth a tiny bit more this month. The number shown is after another 11% reduction to be more conservative.
It's been about a year that I've had this mortgage, and I am wondering if I should commit some cash towards paying down the mortgage principal too. If I make an extra mortgage payment each year, I replicate a biweekly accelerated payment plan, and can shave around 5 years off my 30-year mortgage.