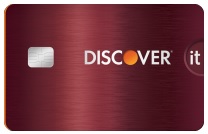 If you have cash back rewards accrued from Discover credit cards, you can use them to buy eligible items at Amazon.com. The redemption rate is $1 in Cash Back Bonus = $1 to spend at Amazon, which is the same rate as their statement credit redemptions. The only potential added benefit is the lack of minimum redemption amount (and any linked promotions…).
You'll need to connect an eligible Discover credit card that earns Cash Back rewards, including:
First-time user bonus for Amazon Prime members. There is a first-time user bonus for up to $15 off your order when you use Pay with Points with Discover for the first time and are an Amazon Prime member (trial membership doesn't count). The terms state this is a targeted offer, but I was able to use this successfully despite not being sent this offer directly. An important tip from the terms is the following:
If you are enrolling in the Shop with Points Program for the first time or have just become a Prime member, please be aware that it may take up to 72 hours before your promotional code will be accepted and applied.
Here is the page to sign up for Shop With Points using Discover. Again, you may need to wait 72 hours if you just signed up before applying this code.
Here are the directions, via FW:
Add products sold and shipped by Amazon.com to your Shopping cart.
Choose a Discover Shop with Points enrolled card as a payment method.
Enter the promo code DISC16EVER in the box provided on the checkout page, and pay for at least part of your order with CashBack Bonus
Up to $15 of savings will be reflected on the final checkout page.
Here is a screenshot of my successful application of this offer, using only $1 of Discover Cash Back (click to enlarge):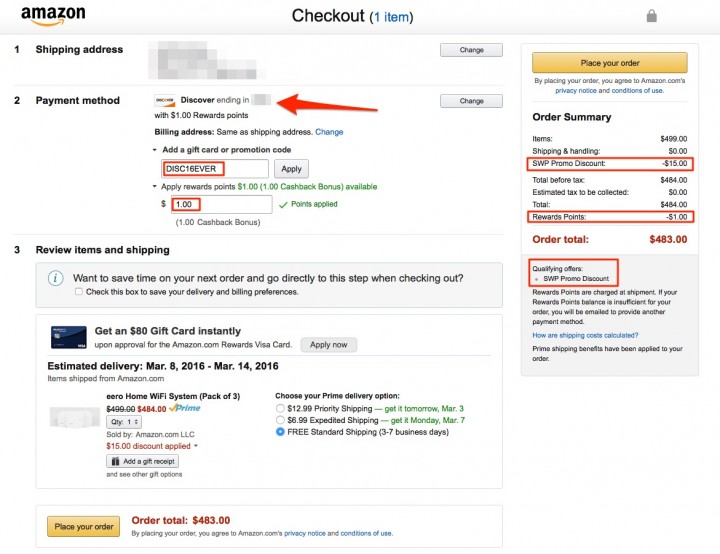 (No, I didn't actually buy the $500 Eero Mesh Router system, but I was just researching it as I've been having some WiFi coverage issues in my house. Sounds cool, but pricey.)