(Update: As of 1/4/18, Ally has dropped some of the rates below. Please refer to their website for the most current rates.)

Updated. As of 12/19/17, Ally Bank raised the rate on their 11-month No Penalty CD and their 12-month traditional CD. Here are the new interest rates for the No Penalty CD under their tiered structure (as of 12/19/17):
1.75% APY at $25,000 minimum opening deposit
1.35% APY at $5,000 minimum deposit
1.15% APY at no minimum deposit.
The 11-month No Penalty CD is unique in that while the 1.75% APY rate is locked in at deposit, you can still withdraw your principal and interest without penalty at any time (well, you do have to wait at least 6 days from the deposit date). In other words, your interest rate can never go down, but you can still jump ship if rates rise or if there is a better promo elsewhere.
If you recently opened one of these, remember that Ally Bank offers a "Ten Day Best Rate Guarantee":
When you fund your CD within 10 days of your open date, you'll get the best rate we offer for your term and balance tier if our rate goes up within that time. The Ally Ten Day Best Rate Guarantee also applies at renewal.
If you have an existing No Penalty CD past the 10-day rate guarantee, this means you may consider closing it and then opening up a new one at a higher rate. You will have to withdraw everything at once – there are not partial withdrawals. If you have an Ally savings or checking account, you can close the old CD, see the deposit in your savings/checking, and open up a new CD all in minutes online. (Note that savings accounts are limited to 6 withdrawals per month, so use your checking if possible.) You will be extending the term out another 11 months, but since you can also close it at any time it isn't much of a concern.
Here's a screenshot of my withdrawal showing no penalty and instant availability when withdrawn directly into an Ally account: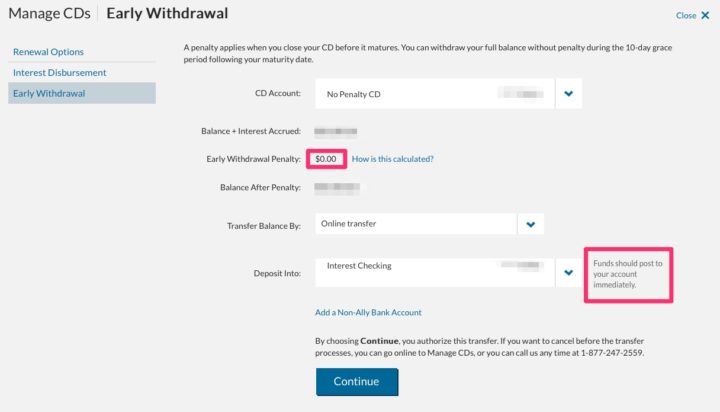 You can use my Ultimate Rate-Chaser Calculator to get an idea of how much additional interest you'd earn if you switched over.
Alternatives to consider.
Top online savings accounts rates offer slightly lower rates, but you have more liquidity in and out.
Ally 12-month CD is now at 2% APY with no minimum balance, which is a current top rate if you are willing to be locked in with an early-withdrawal penalty.
CIT Bank 11-Month No Penalty CD is a similar product, currently at 1.55% APY but with a lower $1,000 minimum deposit. These two banks have leapfrogged each other in the past, so it will be interesting to see what happens in the future.
Ally No Penalty CDs and traditional CDs can be a convenient companion to the Ally Bank Online Savings and Interest Checking accounts, which are my primary bank accounts.
Rates updated 12/19/17.