I noticed it's been almost exactly a year since my first post about letting my wife cutting my hair. Since then, I haven't seen the inside of a barber shop. So let's see, I used to cut my hair about once every 3 weeks, at about $15 including tip. 52 weeks/3 x $15 = $260. Subtract $10 for buying the clipper kit, and we're $250 ahead!
In addition, I actually prefer my home haircut to a barber now. Practice makes perfect! And the convenience factor is great, no appointments necessary.

Since we're on the topic of haircare, have you seen how much yuppie shampoo costs these days?! $25 for a small bottle of shampoo? Another $25 for conditioner? Certified organic babassu? What a scam. Let's do a price comparison with what I use:
Aveda Damage Remedy Restructuring Shampoo+Cond.- $48 / 2×8.5 fl oz.
Pert Plus Shampoo+Cond.(Retail) – $3.49 / 13.5 fl oz.
I think this is best shown graphically: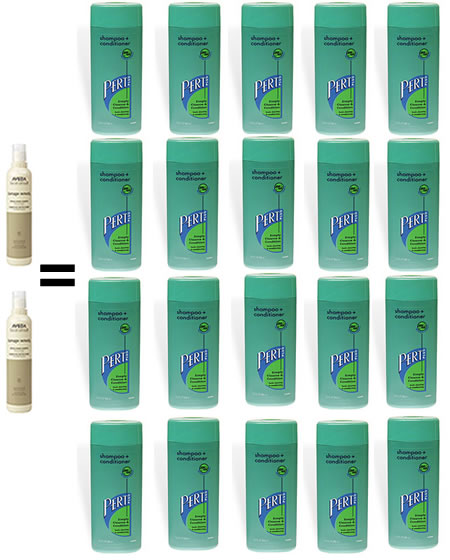 I could wash my hair for half a decade before I spent fifty bucks on shampoo…