Here are four places to stash your cash that aren't advertised very heavily, so your co-workers probably haven't heard of them. They are all FDIC-insured, and offer higher yields than most of their direct competitors. Each one is best depending on your investment time frame and deposit size.
Free Rewards Checking at DanversBank
DanversBank offers their Free Rewards Checking account paying 4.01% APY on balances up to $25,000, provided you satisfy the following each month:
* perform at least 12 debit card transactions (excluding ATMs);
* receive their monthly statement electronically;
* access Online Banking, and
* sign up for direct deposit or receive a recurring ACH.
There are no minimum balance requirement or fees, and ATM fees are refunded as well if you meet the above requirements. The branches are located in the Boston area, but accounts are open to anyone in the US. If you can be diligent every month (otherwise you get piddly interest), these types of account are great interest boosters.
Ally Bank 5-Year CD with Small Early-Withdrawal Penalty
Okay, so Ally does spend a lot of money on advertising, but a feature they rarely mention is actually the best reason to open an account with them. They only hit you with a early withdrawal penalty of 60-days of lost interest if you "break" a CD with them. The Ally Bank 5-year CD currently yields 1.60% APY (as of 10/25/13). Rates change constantly, but let's assume you have a certificate of deposit from any bank paying 2.99% APY with an early withdrawal penalty of the last 60 days of interest. (2.99% APY ~= 2.95% rate compounded daily.) Here's how your actual annualized interest rate would fluctuate given your holding period.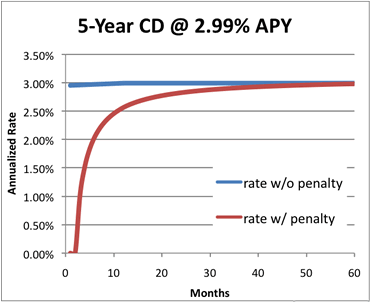 If you look carefully at this charts, you'll see some great deals:
After only 4 months, your annualized rate is 1.48%. (Essentially you 2 months out of 4, which is half of 3.04%). This isn't bad at all, considering their liquid online savings account is currently paying 0.85% APY.
After 1 year, your annualized rate is 2.49%. You can't find a better rate than this at any other bank for a 1-year CD. Likewise, after 2 years, your annualized rate is 2.87%, compared to Ally's current 2-year CD at 1.05% APY, although it does have a "raise your rate" feature that lets you bump it up once if rates rise.
After 3 years, your annualized rate is 2.83%, again a top rate. Thus, even opening a 5-year CD and holding for anywhere between four months and 3 years gets you a better rate than any other bank currently out there (including Ally itself). There's also no minimum deposit required to open, so you can make each CD as small as you like!
SmartyPig FDIC-Insured Online Piggy Bank

I reviewed SmartyPig.com a while back when they had just broke onto the scene, but they have made a lot of improvements in response to customer feedback since then. You can think of them like an online piggy bank that helps you towards savings goals, but they've added so much flexibility that you can pretty much use them like any other savings account. The best part? They currently pay 2.15% APY on balances up to $50,000 (FDIC-insured). That's better than any other savings account out there, with no additional requirements. No minimums, no maintenance fees.
An added feature is that if you set a savings goal and reach it, they offer "boosts" if you redeem your cash for a gift card in their mall. My favorite is the 4% boost at Amazon, which for example will get you a $260 gift card for $250 cash. Other highlights include Macy's at 12% and Travelocity at 10% boost.
Sallie Mae Bank – Online Savings Account
Sallie Mae is best known as the huge student loan originator and servicer. Their new Sallie Mae Bank is an FDIC-insured bank that offers a very competitive 1.40% APY in their online savings account. Not a bad deal to lend out money to captive students at high interest rates, and pay much less as a bank! Hopefully this means that they can keep their rates higher than other banks.
The quickest way to describe it is as another clone of Capital One 360 (currently paying 0.75%). That means… liquid, no minimum balance, no minimum fees, and no deposit caps or tiers (just the $250k FDIC insurance limit to worry about). It's designed to complement your existing accounts. You can link an unlimited amount of other bank accounts for easy online transfers, which take the usual 2-3 days to complete. Interest is compounded daily and credited monthly.
Also, if you have an account at Upromise, you can link your Sallie Mae account and have your Upromise earning deposited there. You can even get a 10% extra bonus if you do one of the following:
To be eligible for the 10% annual match on your Upromise earnings from Upromise you must link your High-Yield Savings Account to your Upromise Account and, within 90 days of opening your High-Yield Savings Account, either: (1) set up an Automatic Savings Plan with a monthly deposit of $25 or more, or (2) fund the account with $5,000 or more. Upromise will match 10% of your Upromise earnings posted as "funded" to your Upromise Account during the calendar year of January 1 through December 31. Your 10% annual match will be deposited into your High-Yield Savings Account in February of the following year provided that both accounts remain active and are in good standing at the time of transfer.