Archives for October 2013

Update 11/3/13: The new rates for November 2013-April 2014 are 0.20% fixed and 1.18% variable. See details here.
Last updated:
November 3, 2013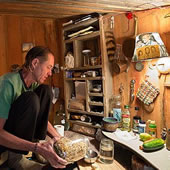 Can a person live in the US on only $5,000 a year? According to this NBC News article and this Youtube video, Dan Price has been doing it for 20 years. I enjoy these kinds of interviews as they reinforce the fact that we all make choices every day, it's just that most of them are the "default" choice. I like being presented with people who make different "opt-out" decisions, even if they are extreme. The article uses terms like "intentional poor" and "voluntary poverty". Why not just "conscious simplicity"? I enjoyed this quote:
I don't believe in houses or mortgages. Who in their right mind would spend their lifetime paying for a building they never get to spend time in because they are always working?
Lessons and takeaways from Dan Price's $5,000 a year lifestyle:
Lifestyle-based income. His rare lifestyle partially funds itself as the "wilderness zine" described in the article is simply a print journal of his own thoughts and activities (remember those things before blogs?). Sponsors also provide things like tents and clothing in exchange for mentions in his journal. A brief search locates his website: Moonlight Chronicles. (It annoys me when articles don't just tell you these things.)
Rent. He managed to find a place that only costs him $100 for entire year. I gather that in exchange he also serves as a caretaker for the 2-acre undeveloped plot of rural land in Northeast Oregon. Deals like this are never advertised; nobody lived there and he asked the owners directly. He rebuilt all the fences and helps maintain the property.
Last updated:
February 25, 2015

Ally Bank just announced that they will be changing the early withdrawal policy on their CDs starting on December 7, 2013. Found via Ken Tumin's DepositAccounts post, the details are now officially outlined in the fees tab of their certificates of deposit page. A screenshot: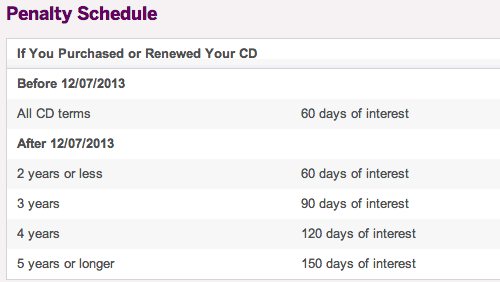 I have several 5-year Ally CDs earning between 1.8% APY and 3.1% APY, bought largely due to their uniquely short 60-day interest penalty as it meant that I could effectively have access to my funds if required and still earn an interest rate that was higher than anything any other bank CD.
For example, let's look at their 5-year CD currently paying a 1.60% APY (as of 10/27/13) with no penalty, a penalty of the last 60 days of interest, and a penalty of the last 150 days of interest. Here's how your actual annualized interest rates would look like based on time of withdrawal: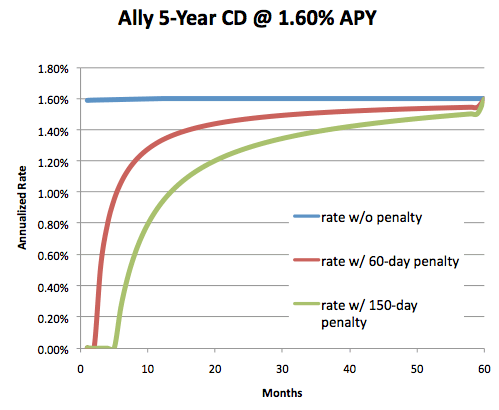 Last updated:
January 5, 2015

Due to birth of our first child, we haven't been traveling much the last 24 months. However, I've still been racking up the miles (via credit card bonuses, credit card rewards, dining rewards, and shopping portals) and have built up a sizable pile with the three major "superpoints" programs – those that allow transfers to a variety of air and hotel partners. Everyone has their own preferred programs and unique travel needs, but here is a quick reference guide to simplify things. My favorite transfer partners are bolded, but all of the other options are also included. These days I'll probably just be topping off an account off to qualify for an award ticket or free hotel night. Ratios are 1:1 unless otherwise noted.
Chase Ultimate Rewards (UR) Points
United Airlines
Southwest Airlines
British Airways
Hyatt
Korean Air
Virgin Atlantic
Marriott
Ritz-Carlton
IHG Rewards Club
Amtrak
Credit card bonuses and rewards are the fastest way to jumpstart your miles balance. Here are related offers:
Chase Sapphire Preferred Card review – 40,000 Ultimate Rewards point bonus, 2X points on travel and dining.
Chase Ink Bold Business charge card review – 50,000 Ultimate Rewards point bonus, 5X points on office supplies, internet, phone, TV service, 2X on hotels and gas.
Chase Ink Plus Business credit card review – 50,000 Ultimate Rewards point bonus, 5X points on office supplies, internet, phone, TV service, 2X on hotels and gas.
American Express Membership Rewards (MR) Points
Last updated:
October 24, 2013
American Express occasionally runs limited-time promotions that increase the transfer rate from their Membership Rewards points. To see these bonuses, visit MembershipRewards.com. Currently promotions:
British Airways 20% Bonus. That makes 1,000 Membership Rewards® Points = 1,200 Avios. Points must be transferred in increments of 1,000. Promo expires December 31, 2013.
Virgin Atlantic 30% Bonus. That makes 1,000 Membership Rewards® Points = 1,300 Flying Club Miles. Points must be transferred in increments of 1,000. Promo expires November 30, 2013.
Choice Privileges Hotels 20% Bonus. That makes 1,000 Membership Rewards® Points = 1,200 Choice Privileges® points. Points must be transferred in increments of 1,000. Promo expires November 30, 2013.
Last updated:
October 24, 2013

Chris Taylor of Reuters has been writing some mini-interviews about the first jobs of well-known finance gurus like Warren Buffett and Jack Bogle. They include newspaper delivery boys, retail stockboy, gofer, shoeshine boy, USPS mail sorter, bowling alley pinsetter, and soda pop vendor at baseball games.
The initial takeaway is that these are humble beginnings for people who ended up as rich and powerful. It made me think of my own first jobs as a restaurant worker and parking lot attendant. Does this mean we all have hope?
However, while working my minimum-wage jobs I also remember a lot of teenagers and adults being really bad at those entry-level jobs. Based on the short descriptions given in the Reuters articles, the people interviewed all displayed certain successful traits at their first job. Perhaps doing well at your first job requires most of the same basic skills that you need to succeed at future high-level jobs. I think these critical skills would include:
Reliability. I remember many people not showing up on time repeatedly, or even at all for their shifts. Charlie Munger lists reliability as one of the most essential traits for success. He explains that while something like quantum mechanics may be unlearnable by many, reliability can be learned by anyone. If you can master the ability to always be reliable, that alone can overcome many other disadvantages.
Persistence at trying to do your job well. You may not be very good at first, but if you keep trying and learning chances are you'll get there. I recently heard an interview about chef Geoffrey Zakarian landed his first job with limited skills at the famous restaurant Le Cirque. How? He walked, asked, got denied, offered to work for free (!), got the job, and learned his way up starting with peeling potatoes.
Good (basic?) social skills. The other way that I've seen people mess up minimum-wage jobs is that they just can't get along with people or control their emotions. They get into heated arguments with customers and/or coworkers, and either get fired or are just never seen again (disturbingly common). The current chairman and vice-chairman of Ariel Investments both started out working together as baseball stadium food vendors. Look at Warren Buffett and Charlie Munger, who met through common friends. Take advantage of any opportunities to partner with good people when you come across them.
Last updated:
October 24, 2013
Amazon.com recently announced changes to their Free Super Saver Shipping program. First, the minimum order size for "free shipping" has increased to $35 from $25. Second, it is officially getting slower:
With free shipping, your order will be delivered 5-8 business days after all of your items are available to ship, including pre-order items.
So not only will it take up to 2 weeks to get your stuff, that is only after every single thing is ready to ship. I've already noticed their "Free Super Saver Shipping" getting slower and slower. "ParcelPool" seems to be code for "let it sit around until you absolutely have nothing else to do." Personally, I'm okay with a $35 minimum. But the slower shipping is why I don't shop at Amazon as much anymore.
Various media outlets have their theories on why this happened – higher shipping costs? Amazon about to record huge losses? Shareholder revolt? My interpretation: The loss-leader party is starting to wind down.
Up until now, Amazon has taken a "loss leader" approach to building up their business. Their margins are razor-thin… In 2012, they sold over $60 billion dollars of stuff yet still lost money. Why?
To crush the competition. Is there any direct competitor to Amazon? Buy.com? Ha. There are some tech places like Monoprice and Newegg that have a loyal following. eBay is cheap but inconsistent. So we're left with the brick and mortars – Walmart, Target, and Costco.
To change your shopping habits. They also need to promote a huge behavioral change where when you need something you don't think Walmart or Costco, you think let's go on Amazon and just click and buy. It takes lots of repetition to gain that kind of trust and habit formation. Low prices and fast, free shipping will do that.
During this time, consumers like myself have been happily buying things cheaper from Amazon than anywhere else, from laundry detergent to diapers to hard drives. Why waste the time and gas going anywhere else? I'm afraid they are almost done giving out the free drugs. Are we addicted enough to finally allow them to make big profits?
It seems like they are switching to the Costco model. They want your $79 Prime membership fee, and then they hope to break even on everything else by giving you a nice solid low price along with free 2-day shipping. (Free 3-month trial with Amazon Mom, Free 6-month trial with Amazon Student)
Last updated:
April 29, 2014
This Vanguard article included an infographic (see below) that shows the growth of international bonds as an asset class. If you were to consider the world's investable market as split between bonds and equities, internationally-issued bonds are now the largest piece of the pie at 35%. This includes both government and corporate bonds.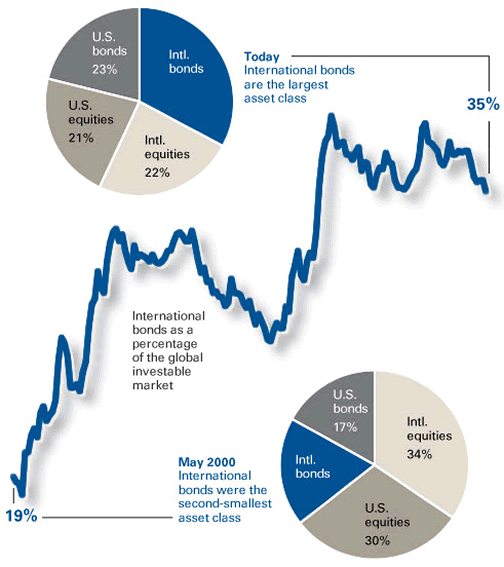 Vanguard believes that holding international bonds is an important way add diversification to your portfolio, and in mid-2013 added international bonds to their Target Date Retirement and LifeStrategy all-in-one mutual funds (currently 20% of the total bond allocation). The Vanguard Total International Bond Index Fund Investor Shares (VTIBX) has an 0.23% expense ratio. I'm still not convinced of their necessity and don't own any foreign bonds. Back in 2000, international bonds were still 19% of the global market, yet they took up 0% (none) of their Target Retirement and LifeStrategy funds.
Last updated:
October 21, 2013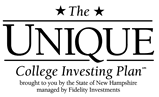 Fidelity Investments recently made a 40% reduction on the management fees for their direct-sold 529 Index Portfolios, with total expense ratios now ranging from 0.19-0.29%, down from 0.25-0.35%. Fidelity runs 529 plans based in New Hampshire, Massachusetts, Delaware, and Arizona. From the press release:
The index portfolio fee reduction applies to all Fidelity-managed direct-sold plans including The UNIQUE College Investing Plan, Fidelity's nationally distributed plan, offered by the State of New Hampshire; the Massachusetts' U.Fund® College Investing Plan; the Delaware College Investment Plan; and the Fidelity Arizona College Savings Plan. Total fees for the 529 Index Portfolios, including underlying mutual fund expenses, now range from 0.19 percent to 0.29 percent of assets, down from 0.25 percent to 0.35 percent. Unlike several competitor plans, all Fidelity direct-sold 529 college savings plans continue to have no annual account fees, low-balance fees, or fees to receive paper statements.
This should also serve as a reminder that Fidelity does offer low-cost index options in addition to their (inferior in my opinion) higher-cost actively-managed portfolios. The choices can be confusing – for example their "Portfolio 2030 (Fidelity Funds)" has a total expense ratio of 1.01%, whereas their "Portfolio 2030 (Fidelity Index)" has a total expense ratio of just 0.25%. You can change your investment option by sending in a form, usually limited to once a year unless you change beneficiaries.
Here is a screenshot of all the Index portfolio options and fee breakdown.
I think people are getting more aware of the impact of fees on performance, and this move makes Fidelity's plans more competitive with other top 529 plans. See rankings by Morningstar and SavingforCollege.com.
There are also Fidelity-branded credit cards that credit 1.5% cash back (Visa) and 2% cash back (American Express) towards any Fidelity account. I choose to have mine directed to a 529 account, specifically their New Hampshire UNIQUE plan which they advertise as their national plan (you can live in any state, but your state's plan may have better tax perks). I have also opened plans from Utah (lowest costs, flexible options) and Ohio (inflation-protected bonds as investment option) for my new kiddo and deposited her birthday gifts there.
Last updated:
October 17, 2013
Stanford University is offering a free open online course "Finance of Retirement & Pensions" taught by Joshua Rauh, Professor of Finance, running 10/14-12/13. Here's the course description and a video:
In this eight-week course, you will learn the financial concepts behind sound retirement plan investment and pension fund management. Course participants will become more informed decision makers about their own portfolios, and be equipped to evaluate economic policy discussions that surround public pensions. The course begins with the principles of financial economics, such as the distribution of outcomes when investing in stocks, bonds, or annuities. These serve as the building blocks for an understanding of different retirement strategies that can help you improve your asset allocation. Finally, the course applies these principles to government programs and policies.
This MOOC looks a bit more focused, a bit more advanced, and also more interactive than the previous Coursera personal finance course I signed up for.
There is no actual course credit earned, but there is a competition at the end of the class where the top 5 teams with the best ideas for pension reform will get to present them at the Stanford Graduate School of Business, all expenses paid! Via NY Times.
Last updated:
October 15, 2013

At the recommendation of reader from one of my Cost of Convenience posts, I have been reading the book Make the Bread, Buy the Butter by Jennifer Reese. In it, Reese does many similar cooking experiments where she decides whether it is better to make it yourself or buy it. I was surprised that she put a "make it" recommendation on things like hot dog buns (while hot dogs themselves are "buy it"), lard, and goat cheese. I'd never even considered making any of those things myself.
Was I wrong? Is there right or wrong? Take the example of Smucker's Uncrustables, which is a factory-made peanut butter and jelly sandwich with the crusts removed (and extra oil, sugar, and preservatives added). There are many articles out there ranting about how this invention must be a sign of the apocalypse. How hard can it be to make a peanut butter and jelly sandwich? Can't we do anything for ourselves now? I find myself nodding in agreement.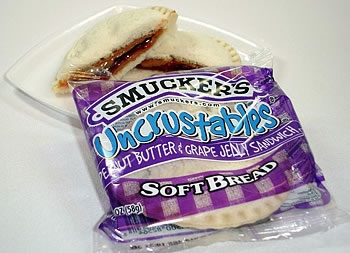 But wait.
A generation or two ago, someone "making" a peanut butter and jelly sandwich actually baked the bread from flour, shelled, roasted, ground up raw peanuts, and preserved excess fresh fruits via canning. Doing all of these things is actually not that hard. Okay, so maybe you bake your own bread, but do you grow the wheat? In the 1930s, 25% of Americans lived on a farm before widespread monoculture, and thus probably grew the flour, peanuts, and fruits on their own land.
So my takeaway was really that we should be open to the possibilities, consider the options carefully, and then each draw our own lines between D-I-Y and B-U-Y. There will always be someone more or less DIY/frugal/green than you. We all have to balance our own time, energy, and beliefs. This book has inspired me to at least try making a few things once. I wonder how my Eggs Benedict with homemade English muffins and hollandaise sauce with turn out.
Last updated:
October 14, 2013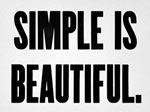 Dan Kadlec of Time magazine offers up 9 Ways to Simplify Your Finances. I always swing back and forth, wanting a nice simple financial life one day, and the next day itching to try out all the cool new financial tools out there. I tend to split up my accounts into "core" and "explore". The "core" accounts hold the vast majority of my money, while the "explore" accounts result from sign-up promotions and/or pure curiosity. Anyways, let's see how I did one the 9 ways listed:
Get down to one mutual fund. The article recommends target-date funds, which I think are fine if you go Vanguard, Fidelity Index, or maybe T. Rowe Price. Right now my portfolio holds 10 mutual funds/ETFs and some individual TIPS. If it weren't for different 401k providers, I could get down to about six.

I really don't feel these funds are very hard to manage though as I have my target asset allocation already determined and I simply rebalance with new funds and once a year otherwise.

Keep two credit cards. Fail. I go through a lot of credit cards. Right now I'm meeting the spending requirements on the Barclays Arrival Mastercard and the Chase Ink Plus. It's a profitable hobby, I tell myself.
Pay bills online. Stamps cost way too much to do it any other way. I charge what I can on credit cards, and the rest is done with online banking.
Choose one financial institution. Does this mean bank or brokerage? Probably both? Well, I have one local regional bank account and an Ally checking/savings combo as my core bank accounts. Vanguard and Fidelity are my core brokerage accounts. I guess another fail, but I am unwilling to give up features here for simplicity.
Automate everything. Direct deposit for both of us, check. 401ks are always automatic, so check. Automated IRA funding? No, I just do a lump sum early in the year. I've tried, but I don't like to automate credit card bills.
Get overdraft protection. Ally Bank checking account has a feature that I can automatically use my savings account for overdrafts with no fee. I don't even know if my local bank account has overdraft protection or not, as I've never had to use it.
Create an emergency fund. Check. I haven't done any rate-chasing recently, as there has been very little to chase. But I know I would if some bank offered a crazy-high APY.
Pay yourself first. I don't do this explicitly, although I do make sure that both of our 401ks and IRAs will be maxed out early on in the year.
Get organized through new technologies. I do use the recommended Mint.com (free) to aggregate my spending transactions only. I also use one of their recommended password managers, 1Password ($40+). I like both. I hadn't heard of the other password keeper mentioned – Dashlane – but it does look polished and the basic version is free.
I like playing around with finances, so I'm okay with my level of complexity for the most part. Things are set up so that most of the important stuff in a few limited places in case something happens to me, but maybe 5% of our net worth might be spread out in some experimental accounts.
Last updated:
May 14, 2014