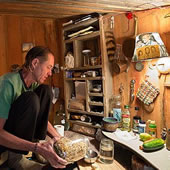 Can a person live in the US on only $5,000 a year? According to this NBC News article and this Youtube video, Dan Price has been doing it for 20 years. I enjoy these kinds of interviews as they reinforce the fact that we all make choices every day, it's just that most of them are the "default" choice. I like being presented with people who make different "opt-out" decisions, even if they are extreme. The article uses terms like "intentional poor" and "voluntary poverty". Why not just "conscious simplicity"? I enjoyed this quote:
I don't believe in houses or mortgages. Who in their right mind would spend their lifetime paying for a building they never get to spend time in because they are always working?
Lessons and takeaways from Dan Price's $5,000 a year lifestyle:
Lifestyle-based income. His rare lifestyle partially funds itself as the "wilderness zine" described in the article is simply a print journal of his own thoughts and activities (remember those things before blogs?). Sponsors also provide things like tents and clothing in exchange for mentions in his journal. A brief search locates his website: Moonlight Chronicles. (It annoys me when articles don't just tell you these things.)
Rent. He managed to find a place that only costs him $100 for entire year. I gather that in exchange he also serves as a caretaker for the 2-acre undeveloped plot of rural land in Northeast Oregon. Deals like this are never advertised; nobody lived there and he asked the owners directly. He rebuilt all the fences and helps maintain the property.
Last updated:
February 25, 2015