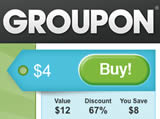 Today 11/2 only: Groupon is offering 6 movie tickets on Fandango.com for $30. Valid for any movie up to $10, including first-run movies but not IMAX. Must redeem Groupon at WeeklyCinema.com by 12/18/10. Tickets must be redeemed via Fandango within 90 days of Groupon redemption.
If you don't have a Groupon account already, please use my sign-up link first. It's free for you, and I'll get some Groupon credit. Groupon is a popular group-buying site where in major metro areas you get one deal per day from a local retailer as long as enough people sign up for it, along with occasional nationwide offers.
The offer is by WeeklyCinema, which usually offers 6 tickets for $29.99 but requires signing up for a subscription. This Groupon does not require a subscription. The six tickets can be split up for different movies or used all at once. The deal is for Seattle, but anyone can buy it and you redeem online. I already purchased mine from a previous Groupon, it should last us for the holiday movie season.